Andrea Campbell - Jamaican Flag Bearer
by Andrea Campbell
(London)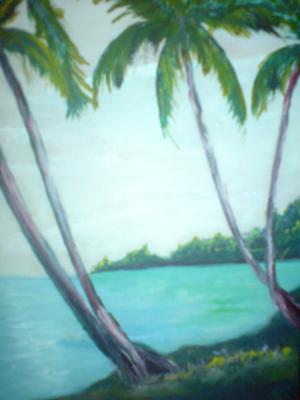 Jamaican Beach with coconuts
I am a Jamaican who has had the opportunity to travel extensively but always returning home.

My love of country is reflected in the activities I undertake especially while living in foreign countries. As an art lover I have often painted scenes of Jamaica and have a few displayed in my office.

Last year I was privileged to publish my second book entitled Jamaican Proverbs, People and Places where I chronicled a part of Jamaica's culture for Jamaicans living overseas and generations to come.

Born in Kingston, I spent first 8 years in St Elizabeth, following 8 years in St Ann, returning to Kingston and now settled in St Catherine. I feel I am a rounded Jamaican, being able to lay claim to so many parts of the island :-)

Having experienced the culture of other nations, and having drawn on the kindness of many of my compatriots in the writing of my book, I realized that my people are some of the most generous people that exist.

I have attached a couple of my paintings - renditions of Jamaican beauty.

---
Are You A Fan? Click Here and let us 'meet' you
or
Click Here to meet other fans now!
Like What You Read?



If so, please join my over 10,000 subscribers & friends who receive exclusive monthly updates, tips, trivia and stories from lovers of Jamaica!
PLUS get a FREE COPY of my eBook, 101 Intriguing Facts About Jamaica! Just enter your email & first name below:


It's Your Turn!  :-)
I want to hear from you, yes YOU.
Please click here to get started, right now.

Top Of Page