Andrea Campbell - Jamaican Flag Bearer
by Andrea Campbell
(London)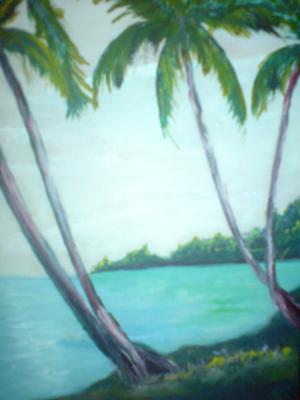 Jamaican Beach with coconuts
I am a Jamaican who has had the opportunity to travel extensively but always returning home.

My love of country is reflected in the activities I undertake especially while living in foreign countries. As an art lover I have often painted scenes of Jamaica and have a few displayed in my office.

Last year I was privileged to publish my second book entitled Jamaican Proverbs, People and Places where I chronicled a part of Jamaica's culture for Jamaicans living overseas and generations to come.

Born in Kingston, I spent first 8 years in St Elizabeth, following 8 years in St Ann, returning to Kingston and now settled in St Catherine. I feel I am a rounded Jamaican, being able to lay claim to so many parts of the island :-)

Having experienced the culture of other nations, and having drawn on the kindness of many of my compatriots in the writing of my book, I realized that my people are some of the most generous people that exist.

I have attached a couple of my paintings - renditions of Jamaican beauty.

---
Are You A Fan? Click Here and let us 'meet' you
or
Click Here to meet other fans now!
Like our Facebook page https://www.facebook.com/myislandjamaica
Follow us on Twitter https://twitter.com/myislandjamaica
Thanks For Reading!
Like What You Just Read?

Please join me in my effort to share the beauty and uniqueness of Jamaica with the world. You can do so by sharing this insightful narrative with your friends on the social media of your choice and ask them to do the same (BELOW). 
Great Articles You Might Have Missed
Need Help?
We have a cherry list of top Jamaican companies that might be able to help you. Please click here to see them, our preferred partners and site sponsors.
Get Exclusive Updates & Tips!
You are also welcome to join my special friends list and receive exclusive updates (like this), tips, trivia and stories from lovers of Jamaica!
I'll Gift You A FREE COPY of my eBook, 101 Intriguing Facts About Jamaica - just for subscribing!

Just enter your email & name below:

Top Of Page