A Blank
Map of Jamaica

Custom Search
A blank map of Jamaica is quite useful, especially for educational purposes.
In fact, I didn't even realize that there was such a big demand for it.
"Really good website! I needed to find things on Jamaica- this was perfect!".-Tiffany
This one, also called an outline map, is great to use by students and educators as a base for many geography activities. Students can use this map to label physical, political and other significant features of the island.
For example, it can be used to identify cities, parishes and towns as well as rivers, mountain ranges, tourist and historical attractions etc. In these cases it may be colored or labeled.
I had lots of fun coloring and labeling diagrams like this during my primary school years. By the way, I still enjoy coloring pictures- yes as mature as I am now, or lock of it :-)

Anyway, here is a little neat one!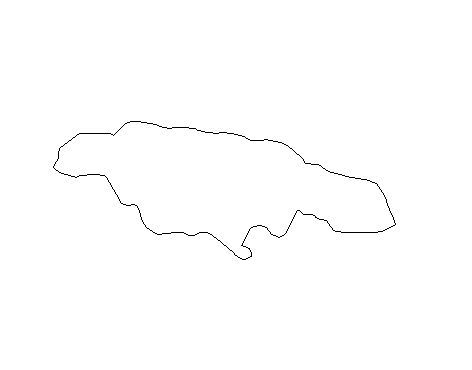 You can save it, print it and even email it. Simply right click on the image and tadaaa...you get all those options!
Here also (below) is a slightly larger one that shows some of the minor islands to the south and south east of Jamaica. The procedure remains the same, simply right click on the image to print it or save it to your computer.

Happy learning and good luck!

And more informative pages about Jamaica that might interest you:
By the way, if not already done, please subscribe to My Island JamaicaMini-Blog also.

This RSS feed is a small blog about Jamaica (kind of a journal), which will also let you know whenever any new or changed Web pages appear on My-Island-Jamaica.com. It keeps you up-to-date with other special postings that you might otherwise miss.
Look for the XML|RSS graphic on the links bar to the top left of this page and subscribe there.
Return to Map of Jamaica from Blank Map of Jamaica
Return to My Island Jamaica Homepage from Blank Map of Jamaica
Thanks For Reading!
Like What You Just Read?

Please join me in my effort to share the beauty and uniqueness of Jamaica with the world. You can do so by sharing this insightful narrative on the social media of your choice and ask others to do the same (BELOW). 
What's New? Here Are The Very Latest Articles I Added

Feb 28, 15 06:23 PM

Hello Wellesley, Recently I was watching CIN news station and they were highlighting the topic on how cancer is becoming on of the health hazard in Jamaica.

Feb 15, 15 10:58 PM

My company Masterton Ltd. opened a company building in Montego Bay in the 1950's, and I worked there a couple fine times when the manager was going on

Feb 15, 15 10:43 PM

QUESTION About Weed In Jamaica My wife and I live in California and will be in Nagril in June. We are there to celebrate 25 yrs or marriage. We are adults
Get Exclusive Updates & Tips!
You are also welcome to join my special friends list and receive exclusive updates (like this), tips, trivia and stories from lovers of Jamaica!
I'll Gift You A FREE COPY of my eBook, 101 Intriguing Facts About Jamaica - just for subscribing!

Just enter your email & name below:
Now, It's Your Turn!  :-)
I'd like to hear from you, please click here to share your thoughts and opinions, right now.


Didn't find exactly what you were looking for?
Click Here to do a quick search of the entire site
Top Of Page