Domino in Jamaica
Domino in Jamaica is like nowhere else. Of course, we perfected this lovely game and is credited for taking it to the big world stage.
As a boy, I usually frequent 'Ms Adlyn' little corner shop - two chains from my home, to get a piece of the action.
Every evening the men from the community would converge there and play dominoes. Weekends are even worse, they stay back until much later in the night. And this is typical of many rural communites in Jamaica- dominoes is still the preferred game after a hectic day.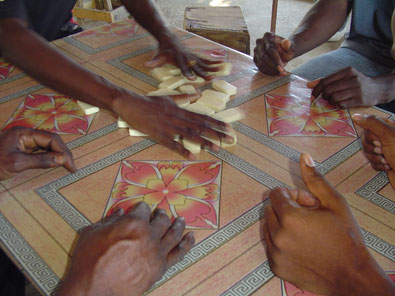 But domino in Jamaica is even more than that, it provides a cordial yet competitive atmosphere for great social gatherings. It is a great ice breaker.
We enjoy domino at parties, fundays, 'wake' cermonies, and just about any other social gathering you can think of, including religious meetings as well.
Everybody plays domino in Jamaica, but you will find mainly average to older men enjoying the game more frequently. We admire the winners, 'Uncle Eustace' for example, was one of the kings of domino in my community, very hard to beat. Many times they play just for fun, but other times a stake as well -from beer to hard cash.
We have basically there versions of the domino game here:
Partner

As this suggest, you use a partner. Typically 4 persons plays (A person and his partner vs. another and his partner). This is perhaps the most popular option here.

Cut Throat

Contrary to 'partner', the naming has nothing to do with this version at all. I am hoping you will not ask me why such a name. I suppose it is because of the individuality of this one, aach person plays for himself. This is the version that is mainly played for money.

French

This is kind of a cross between both but there are other interesting features, for example, the hand is played anticlockwise.
The sport has taken new dimensions here now with Air Jamaica coordinating the World Championship of Dominoes held right here in Jamaica since 1999. Teams from all over the world converge in Jamaica to compete in this exciting event.
Sponsors from diverse corporations came together in Jamaica with a view of bringing together domino players from all over the world to participate in a professionally run tournament that provides the opportunity for excellent players to win substantial cash prizes.
All this of course in an atmosphere of fun surrounding one of the most popular game in the Caribbean.
When you get some time, take a look at this website to learn more about the game in Jamaica.
...even more informative pages about Jamaica below:
---
Please subscribe to my monthly newsletter, My Island Jamaica Digest. It tells you each month about the new information that I have added, including new developments, 'did you knows?', and great stories from lovers of Jamaica.

Return to Sports Played in Jamaica from Domino in Jamaica Return to My Island Jamaica Homepage from Domino in Jamaica