Evening Sun in Montego Bay
by Melanie
(Montego Bay, Jamaica)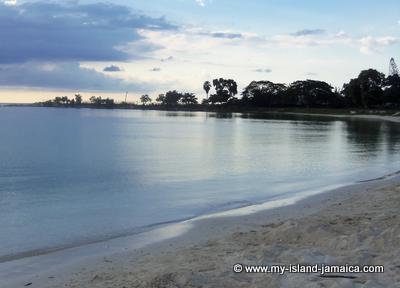 Contest Entry #015 - Evening Sun in Montego Bay


This photo was taken one evening in Autumn at the Dump up beach in Montego Bay.
I was feeling down and just wanted to get some clean, fresh air and some peace drove me to the beach.
You can choose to sit and relax, take a stroll or just have a little picnic. Also just take a few beautiful pictures of the breathtaking views.
You'd never guess what this under-rated spot has to offer. At first I thought it was the sun setting but then realized that it was the weather since it started drizzling.
The clouds were then blown away revealing the sun once more giving the water a a silver sheet-like appearance.
Its a very relaxing evening chill spot! When I left I felt much better than how I did before going there.
---
Submit YOUR own Picture here
or
See other lovely photo submissions here
.
Thanks For Reading!
Like What You Just Read?

Please join me in my effort to share the beauty and uniqueness of Jamaica with the world. You can do so by sharing this insightful narrative with your friends on the social media of your choice and ask them to do the same (BELOW). 
Get Exclusive Updates & Tips!
You are also welcome to join my special friends list and receive exclusive updates (like this), tips, trivia and stories from lovers of Jamaica!
I'll Gift You A FREE COPY of my eBook, 101 Intriguing Facts About Jamaica - just for subscribing!

Just enter your email & name below: