Football In Jamaica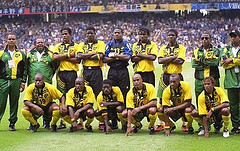 Football in Jamaica is quiet special. Although a cricketer, I have no problems conceding that it is undoubtedly the most popular sport in Jamaica. It transcends all strata of our society. Rich or poor (or as we say, uptown and downtown),it doesn't matter, everyone enjoys it together.
At anytime of the day, particularly on weekends, you can find someone, somewhere, 'juggling' a ball.
Many, including (of course) our politicians reiterated that it is more than a sport here, it is a part of us. As our 1998 FIFA World Cup qualification proves, it is a strong uniting force in our country. Listen to this!...
You know Jamaica is still challenged by crime is some of our inner cites right? Well on the day Jamaica qualified for the FIFA World Cup, the police department reported that there were relatively no incidents! Such is the power of the sport here!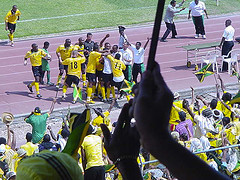 Football was introduced to Jamaica by the British towards the end of the 19th century and it quickly took hold. 1893 was listed as the year we started our first football club!
The Jamaica Football Federation (JFF) is the governing body of football in JA. This was formed in 1910. They administers the men's and women's national teams and the Jamaica National Premier League. By the way, we nicknamed our national men's team as the The Reggae Boyz.
---
Our National Premier League is divided into four confederations (as we call them):
Kingston and St. Andrew Football Association (KSAFA).
These include clubs from the parishes of Kingston and St. Andrew.
The South Central Confederation.
This contains clubs from the parishes of Clarendon, Manchester, St. Catherine and St. Elizabeth.
The Eastern Confederation.
Which comprises clubs from the parishes of Portland, St. Ann, St. Mary and St. Thomas, and...
The Western Confederation.
Which features the clubs from the parishes of Hanover, St. James, Trelawny and Westmoreland.[Of course, this is my confed].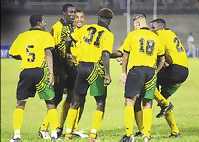 Each of these four confederations operates their own Super League and they represent the second level of football in Jamaica.
The winners of these leagues play off against each other, home and away, with the top two teams replacing the bottom two teams relegated from the Premier League. Teams relegated from the Premier League enter the Super League of the Confederation they belong to.
I can't play football [Please bear with me, I tried], but I must be only one of the few who can't. The truth is however, Football in Jamaica is not only another sport, it is an integral part of our culture.
---
Please subscribe to my monthly newsletter, My Island Jamaica Digest. It tells you each month about the new information that I have added, including new developments and great stories from lovers of Jamaica.
Return to Sports Played in Jamica from Football in Jamaica
Return to My Island Jamaica from Football In Jamaica