jamaica day at school
by fantasia stewart
(discovery bay st ann)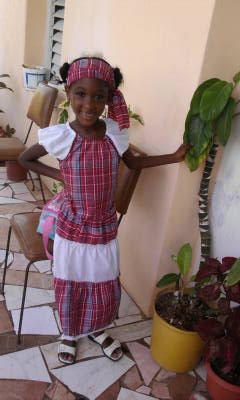 jamaican bandana dress
Contest Entry #36 - In my Jamaican costume on Jamaica Day at School

(Edited by webmaster)

---
This was jamaica day, I was overwhelm that day with joy, because this was the frist time i was dressing up like
louise bennett
.
My mother bought me a lovely dress and a head band to go with it. When I went to school that day ,it was excitement, everyone was looking at me in my bandana dress. They told me i look pretty my teacher hug me and say fantasia you look fantastic.
I was happy when I came home. I told my mother how everyone love my dress my mother hug me and kiss me and said i love you my princess.
For the rest of the after moon i had on the dress until it was time for bed.
I think i should win because i look like Louise Bennett in my Jamaican costume.
Thank you.
---
Share Your Own Here
or
See other submissions here
Thanks For Reading!
Like What You Just Read?

Please join me in my effort to share the beauty and uniqueness of Jamaica with the world. You can do so by sharing this insightful narrative with your friends on the social media of your choice and ask them to do the same (BELOW). 
Get Exclusive Updates & Tips!
You are also welcome to join my special friends list and receive exclusive updates (like this), tips, trivia and stories from lovers of Jamaica!
I'll Gift You A FREE COPY of my eBook, 101 Intriguing Facts About Jamaica - just for subscribing!

Just enter your email & name below: