Jamaican Christmas Fruit Cake
by Lee
(Turks and Caicos )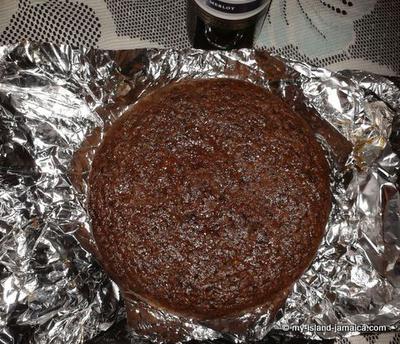 Jamaican Christmas Fruit Cake
Well my cake is currently in the oven. I followed all the instructions you gave (over here). I am waiting patiently to see the outcome, wish me luck. I will tell u about my success later in a couple of minutes thank you for sharing.

Wellesley's Note
Sweet! I can't wait to hear about the outcome Lee!
In the meantime, I am going to show-off on you (lol) with this picture of ours - fresh from the oven (above)!

This was done by my sister here at the family home (On Christmas Day). By the way, wanna guess who is responsible for that missing slice; the second picture? lol!

It was savoury. You would never guess that my sister is a corporate executive lady; She's my favorite cook! God bless her hands!

See those jugs of freshly prepared Sorrel too (third picture)? Well they disappeared in no time!

Anyways, I am happy to know that you are sharing in the spirit of the Jamaican Christmas, and is using my recipe!

I am waiting patiently to hear form you - although I'd prefer to get a little taste :-)

Please use the comments link below. Happy Holidays my friend!
Join in and write your own page! It's easy to do. How? Simply click here to return to Have_Your_Say.
Like our Facebook page https://www.facebook.com/myislandjamaica
Follow us on Twitter https://twitter.com/myislandjamaica
Thanks For Reading!
Like What You Just Read?

Please join me in my effort to share the beauty and uniqueness of Jamaica with the world. You can do so by sharing this insightful narrative on the social media of your choice and ask others to do the same (BELOW). 

Need Help?
We have a cherry list of top Jamaican companies that might be able to help you. Please click here to see them, our preferred partners and site sponsors.
Get Exclusive Updates & Tips!
You are also welcome to join my special friends list and receive exclusive updates (like this), tips, trivia and stories from lovers of Jamaica!
I'll Gift You A FREE COPY of my eBook, 101 Intriguing Facts About Jamaica - just for subscribing!

Just enter your email & name below:

Top Of Page