Many thanks to all those who entered our first Jamaican photo contest.
We had some beautiful and inspiring photos, every single one depicting an interesting aspect of our 'Jamaicaness'.
Put your hands together and help me congratulate...
Lynette Nuttbrock of Keizer, Oregon, USA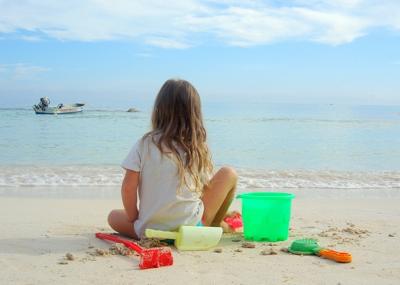 The Beach"
By Lynette Nuttbrock
Lynette entry above, "The Beach", captured a lot of interest and rightfully deserve the prize.
That said, the other entries were just as adoring.
I particularly love the "Clouds on the Blue Mountain" by Cheryl, here in Jamaica.
You are welcome to view all the other entries by clicking here
And yes, feel free to post your own comment as well.
And by the way, if you too were a visitor to the island, took some amazing photos, and believe you have a meaningful, fascinating, beautiful or fun J'can photo, please enter it in the current contest!
If you are a local and feel you have a winning photograph, don't be left out either! Please join in the fun as well!
Here is a photo slideshow capturing all the adorable photos.
Here too is a convenient slide shows of Contest #1 Entries!
By the way, Please consider subscribing to My Island Jamaica Mini-Blog.
This RSS feed is a small blog about Jamaica (kind of a journal), which will also let you know whenever any new or changed Web pages appear on My-Island-Jamaica.com.
It keeps you up-to-date with other special postings that you might otherwise miss.
Look for the XML|RSS graphic on the links bar to the left of this page and subscribe there or click here to learn more
Back to Top of J'Can Photo Contest #1 (Results)
Entries Received
Below are all the entries received, Click each below to feel free to post a comment.


Jamaican Photo Contest #1 Entries

Interesting Jamaican Plant Don't even know what this tree or plant is called and that's the reason why I snap the photo :) Another unusual …
Return to Jamaican Photo Contest from Jamaican Photo Contest #1