This, the third edition of our exciting Jamaican photo contest was another big success! Thanks again to everyone who entered.
A special thanks goes out to those who have been submitting photos since we just started- like Brian and Cheryl.
Thanks for exhibiting the true community spirit and the passion for our dear country.
We had some adoring photos again. A few of them can probably be described as timeless too.
All in all, we achieved the objective, which is to increase the interactivity and showcase the distinctive Jamaican culture.
And now for the winner!
Take your hand off the mouse right now, put them together, and help me congratulate...
Gary Edwards of Marbella, Spain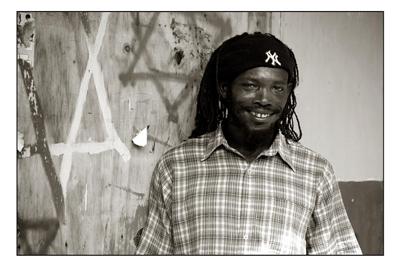 "Stov, The Happy Jamaican"
By Gary Edwards
Gary's entry, "Stov, The Happy Jamaican", was in fact the very first entry we received, and right throughout the competition it appears to be the favourite!
Other entries came really close though. For example "Parting Notes" by Paula Palmer in Texas, USA.
I must also mention the truly special photo of Michael Jackson with Bob Marley and Friends in Jamaica 1975; a truly inspiring one.
I posted it so obviously it was not going to be judged.
You are welcome to view all the other entries by clicking here
And yes, feel free to post your own comment as well.
---
Here is a photo slideshow capturing all the adorable photos.
---
Now, remember, if you too were a visitor to the island, took some amazing photos, and believe you have a meaningful, fascinating, beautiful or fun J'can photo, please enter it in the next contest!
If you are a local and feel you have a winning photograph, don't be left out either! Please join in the fun as well!
Here too is a convenient slide shows of Contest #3 Entries!
By the way, Please consider subscribing to our monthly newsletter My Island Jamaica Digest.
(MIJD) is my FREE monthly newsletter that tells you each month about new developments in Jamaica as well as new information that added, including tips, trivia, and stories from lovers of Jamaica.
Back to Top of J'Can Photo Contest #3 (Results)
Your Favourite Jamaican Photo!
So you have a winning Jamaican photo?
Share it with us.

It's all about the fun, plus you can win!

And by the way, my other site visitors will truly appreciate it.

How to get started? It's easy...
Entries Received
Below are all the entries received, Click each below and feel free to post a comment.

Michael Jackson with Bob Marley in Jamaica (1975)

For a larger view , please click here . Obviously as the producer of this competition, I cannot enter the contest, so please consider this a …
Parting Notes

Took a cruise this year and stopped in Mobay. Had a great day and as we boarded the ship these young children played for us. Several had bags …
Stov, the happy Jamaican

This image was taken during a short visit to Jamaica in Nov 08. The gentleman in the photo was with friends in the market of Port Antonio and …
View of Shallow Bar from Eggies' beach bar

This view from Eggies just promotes how peaceful and lovely Treasure Beach in St. Elizabeth, Jamaica is. Sitting watching the sunset is better …
The Champion Bull

This was my first time at Denbigh and the picture captured that I was having a whale of a time standing beside this gigantic black bull which was …
Jamaican Green parrots posing in a tree

I was taking photographs in my garden and spotted these Parrots, they seemed to be posing for me so I obliged them.
Return to Jamaican Photo Contest from Jamaican Photo Contest #3