Lovely Jamaica- I miss Jamaica every day
by Carol
(USA)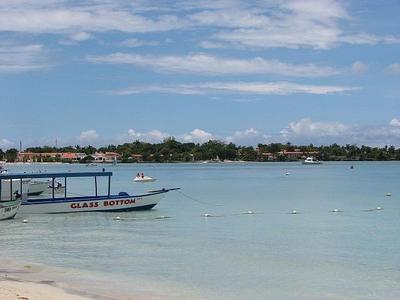 Lovely Jamaica Beach
I just came upon your site and have enjoyed it very much!


Sadly I left Jamaica with my parents in 1978 to start a new life in Texas.
Both sets of my parents were born there. I was third generation in attending Wolmers Girls School.
I do miss Jamaica every day but have returned every year to visit family, friends and enjoy the
great food
and
scenery
.
I was 24 years old when I left. My children love Jamaica and are very proud to be 1/2 Jamaican.
My mothers brother was a cricket player for the West Indies cricket team; Allan Rae is my uncles name.
I believe his picture is in the national stadium? Is this true?
Looking forward to hearing from you!
Carol
Hi Carol,
Thanks for stopping by! And for sharing your thoughts.
yes, I can understand the feeling! I was away for just three months at one point and was getting sick for home - seriously :-)
So is Allan Rae really your uncle?
Lovely.
He was a wonderful cricketer.
And yes, you are right, his photo is indeed in the national stadium in Kingston here in Jamaica!
That brings me to another point, you know how much love Jamaica, but bet you never knew that cricket is also my game. Not only do I play it (when time allows), I am also involved in its administration currently.
Anyway, thanks again for your feedback, and do keep the connection.
If you haven't already don, please ensure you
subscribe to my free newsletter
and stay with the latest- OK.
See Also:
Jamaica Travel Stories