Springfield, St. Elizabeth, Jamaica
by My-Island-Jamaica.com
(Jamaica)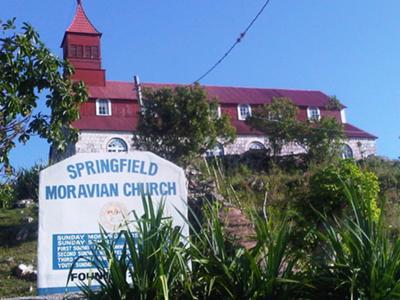 The picturesque Moravian church on the hill
Springfield is a quaint but resourceful little district on the outskirt(north/northeast) of the town of Newmarket in St. Elizabeth.

Typical of most rural disctricts in Jamaica, their main source of income is from agriculture, primarily farming.

Thanks to my friends, Aunt Nenae and Keisha, I was able to learn quite a few things about this little community.

I snapped the little cabbage farm on my way back. The farmer (not in photo) was very nice. He gleefully allowed me to take the picture. He even gave me a few of the ready ones.

The moravian church on the hill is a view to behold, just awesome! I certainly did not do it much justice with this picture. I learned that the inside is even more impressive!

And that's the school, the all-age (primary) school! I went in and scanned around, very clean and inviting. The kids were equally great.

I tell you, there is no place to me like the rural parts, that's where I get- and is reminded of, the real Jamaica.

I'll be roving so do continue to stay in touch, I'll be sharing another small community with you soon.

P.S. If you are familiar with the area, please feel free to comment on it below.
---
Submit Your Own Photo
or
See Other Jamaican Photos
.
Thanks For Reading!
Like What You Just Read?

Please join me in my effort to share the beauty and uniqueness of Jamaica with the world. You can do so by sharing this insightful narrative on the social media of your choice and ask others to do the same (BELOW). 
What's New? Here Are The Very Latest Articles I Added

Dec 20, 14 04:11 PM

Blue Hole Mineral Spring is one of the rarest hidden gems in Jamaica and is one of the most authentic of attractions in Negril Jamaica

Dec 13, 14 11:39 PM

We're spending our first visit ever in Jamacia. What's the Christmas like in Negril or anywhere on the Island? ANSWER: BY Wellesley Gayle Hello there

Dec 08, 14 10:53 PM

Looking for a cheap charter flight to Jamaica? Here is a list of the top ones from the USA, UK and Canada
Get Exclusive Updates & Tips!
You are also welcome to join my special friends list and receive exclusive updates (like this), tips, trivia and stories from lovers of Jamaica!
I'll Gift You A FREE COPY of my eBook, 101 Intriguing Facts About Jamaica - just for subscribing!

Just enter your email & name below:
Now, It's Your Turn!  :-)
I'd like to hear from you, please click here to share your thoughts and opinions, right now.


Didn't find exactly what you were looking for?
Click Here to do a quick search of the entire site
Top Of Page