JLP Wins Jamaica's 17th General Election
by Wellesley
(Jamaica)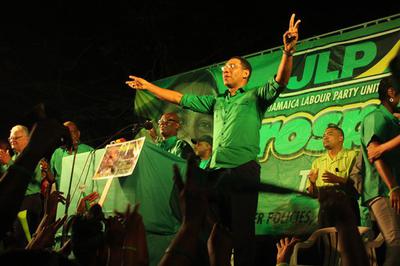 JLP Wins Jamaica Elections 2016
Feb 25 2016: The Jamaica Labour Party (JLP) will be declared the winner of the 2016 general elections here in Jamaica.

According to the preliminary results, the JLP has won 33 of the seats compared to the People's National Party (PNP) 30.

According to political historian Shalmon Scott, it is the closest victory since 1944.

According to the Jamaica Labour Party, this day, February 25,2016, it is the start of a great day for Jamaicans.

And the fact that since both Andrew Holness and his wife, Juliet Holness, won their constituencies, history will be created as Jamaica will have its first husband and wife in parliament!

The PNP's General Secretary conceded defeat but stressed that the PNP will be holding the JLP accountable for the promises they made to the Jamaican people during the campaign.

Former JLP leader, Edward Seaga in a brief presentation, noted that it was a great campaign run by the JLP, one of the best in the history of Jamaica.

In his victory speech, Mr. Holness said. "We have carried a message of hope. And the people of Jamaica have accepted our message. But this is not the end of a journey, it is the beginning of changing Jamaica". And that the cost of victory is accountability".

He also added that he understands that the people want to change how government is run.

We welcome your comments.

See also: The election as it happened.