Buy

Me A Drink
Will You?

Sharing Is Caring! Share this awesome content with your friends now.

New! See the real Jamaica in VIDEOS!
Click Here and see why over 140,000 fans are raving about my YouTube Channel!
Was the site helpful to you?
I'll dear not ask you for any unreasonable donation - just
buy me a drink - would you?
As you would guess, it took a lot of my time and energy to:
Get this off the ground, and
Maintain it!
But I am happy that I've been able to save many of you hundreds and even thousands dollars (Never mind your precious time)!
Many times I get very little sleep because I have committed myself to answer your questions or add another useful piece of information - so you and others like yourself can benefit.
But even then, I will not demand your donation, I'll simply leave it up to you.
In Jamaican bar talk, I'll only ask for 'a drink' :-)
And by the way, you'll notice that I only display some Google Ads, that's strategic.
In fact, you'll notice that I have zero (0) banner ads and absolutely no fancy advertisement as well.
Yes, I may have given up an opportunity to earn some decent income, but that's deliberate; I am trying to ensure that you get only what you are looking for - useful information with less distraction.
I've really tried my best, so if you appreciate my work, yes, I would appreciate a drink too -absolutely :-)
You'll actually be using PayPal.
It is a fast, secure and effective little way to show your true appreciation of this informative Jamaican website.
And they accept all the major credit and debit cards.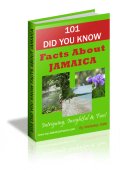 And as a small token of my appreciation, I will send you a copy of my NEW ebook "101 'intriguing' facts about Jamaica"., FREE OF COST!

You will be automatically taken to the special page to download the book right after your transaction is complete!
So far, the feedback from others like you have been tremendous!
Here are some of the emails and guestbook entries I received.
You may also donate by regular mail.
For information on that please send me a note here.
I highly value your kind consideration and appreciation of my efforts.
Please feel free to contact me here also if you need anything else.
Return to Contact Page from Buy Me A Drink