Your Support of
My Island Jamaica.com
Please support the site if it was helpful to you.
As you would know, it cost hundreds of dollars to host and maintain a solid website, and that is exactly the case with My Island Jamaica.com.
But your contribution, no matter how small, will go a far way in helping to offset the costs incurred.
So far, the feedback from others like you about the site and how it has helped have been tremendous! Here are some of the emails I got. [opens in a new window]
You can send a donation by credit card (e.g.Visa/MasterCard) or by PayPal right now by clicking the 'Make a Donation' button below.
It is a fast, secure and effective little way to show your true appreciation of this informative website of our country.
Paypal is completely secure and it lets you donate in US dollars no matter what your home currency is.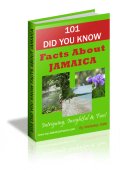 And as a small token of my appreication, I will send you a copy of my NEW ebook "101 'did you know' facts about Jamaica"., FREE OF COST!

Simply, CLICK HERE to send me a note after making your donation and I will rush it to you.
You may also donate by regular mail. For information on that please
send me a note here
. I highly value your kind consideration and appreciation of my efforts.
Please feel free to contact me here also if you need anthing else.