10 Popular Jamaicans Born In The Month Of November
by Deon Clarke | Associate Writer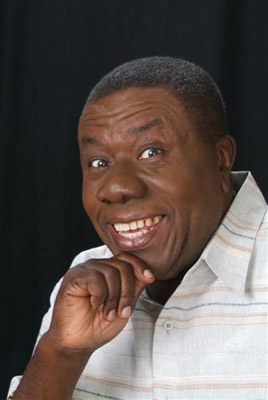 Photo: Oliver Samuels - Jamaican Comedian, Playwright and Actor
Which month is the best month of the year? I Bet you would say your birth month, lol. Which month were you born? Is there anything significant about the month you were born? How many celebrities or popular persons share your birth month? Jamaicans love to celebrate birthdays and sure know how to throw a birthday party (popularly called birthday bashes). Well, if you were born in the month of November, you're in luck today as we will be looking at 10 popular Jamaicans who were born in November. Let's see some of the persons that make this month so special:
Garfield Spence (Konshens) – November 1, 1985 – Born in Kingston, Jamaica, Garfield Spence is a Jamaican dancehall recording artiste with the stage name "Konshens". He is popularly known for hits such as Winner", "Gal Dem A Talk", "Rasta Impostor", "Gal a bubble" "Realest Song", "This Means Money", "Good Girl Gone Bad", "Represent", "Do Sumn" and "Forward".


Oliver Samuels - November 4, 1948 - Oliver Samuels, born in the parish of St. Mary, is a Jamaican comedian and actor. He is often referred to as the Jamaican "King of Comedy". He is well known for performing both stand-up and comic theatre. One of his most notable works and roles can be found in the comical screenplay "Oliver at Large".


Leroy Russell Junior (Tommy Lee Sparta) - November 4, 1987- Leroy Russell Junior is a popular dancehall, reggae, and rock fusion artiste from Flankers, Montego Bay. He also goes by the names: Tommy Lee, Guzu and Sparta. His most popular song "Blessings" was released on May 9, 2019.


John Charles Bryan Barnes (John Barnes) – November 7, 1963 - John Barnes was born in Kingston, Jamaica and is a former English professional football player and manager. He was a quick and skilful left-winger before moving to the central midfield position later in his career. He left for England at the age of 12 and years later returned to Jamaica where he coached the Jamaican Reggae Boyz national football team for a brief period. He now works as a commentator and pundit for ESPN and SuperSport.


Horace Anthony Chang – November 10, 1952 - Dr Horace Chang is a Jamaican doctor and politician who currently serves as both the Deputy Prime Minister of Jamaica and the Minister of National Security. He was also the former Minister of Water, Environment and Housing from September 2007 to December 2011.


Fitzroy Edwards (Edi Fitzroy) – November 17, 1955 – Better known by his stage name Edi Fitzroy, was born in Chapleton in the parish of Clarendon. He was a popular and well-loved Jamaican reggae singer, and performing artiste, especially in the 1980s and 1990s. Among his popular hits were: "Princess Black", "Youthman Penitentiary", and "Babylon Burning". He died on March 4, 2017, after his third stay at the May Pen Hospital.


Everton Dennis Williams (Everton Blender) - November 21, 1954 – Born in the parish of Clarendon in Jamaica, Everton Blender is an award-winning Jamaican reggae singer and producer who is known for bridging the gap between roots reggae music and dancehall music.


Asafa Powell – November 23, 1982, – Asafa Powell is a well-loved Jamaican sprinter who has a speciality in the 100 metres. Between June 2005 and May 2008, he set the 100 metres world record twice, with times of 9.77 and 9.74 seconds respectively. He has gone down in history as one of the world's and Jamaica's greatest sprint stars.


Marcia Griffiths – November 23, 1949 - Marcia Llyneth Griffiths is a popular Jamaican reggae singer. She is known primarily for her strong, smooth love songs and captivating live performances. She is also known as the "Queen of Reggae". Among her hit songs are "Electric Boogie" and "Feel Like Jumping". She was a member of the I-Three with Rita Marley and Judy Mowatt, providing supporting vocals for Bob Marley and The Wailers.


David Constantine Brooks (Mavado) – November 30, 1981 - David Brooks, better known by his stage name Mavado, is a Jamaican dancehall singer, DJ, and songwriter. He is also popularly called "Gully Gad" and was a popular music rival with fellow dancehall artiste Vybz Kartel. Among his popular hits are: "Gully Side", "Father God", "Delilah", "Me Alright", and "True".

From what I have seen so far, the month of November is definitely a great month to be born. I mean the month is just filled with talented musicians and singers, sports stars, and politicians. Wouldn't you agree? Here's to a great month of the year and to the people that make it even greater!
I also recommend you read,
Athletics in Jamaica Talent or Hard Work?
.
Regards,
DC
References:

Reggae Artists With Birthday In November, Slapweh, https://www.slapweh.com/november/

Famous People's Birthdays, November, Jamaica Celebrity Birthdays, Page:2, https://www.bornglorious.com/jamaica/birthday/?pd=11&pg=2

Marcia Griffiths, a 'Timeless' icon - Foundation singer's music tells story of struggle, survival and great success, Jamaica Gleaner, https://jamaica-gleaner.com/article/entertainment/20210308/marcia-griffiths-timeless-icon-foundation-singers-music-tells-story

Editor's Note
Share your thoughts with us!
Leave your comments here
.