11 Signs It's Almost Christmas in Jamaica
by Sheree-Anita Shearer | Associate Writer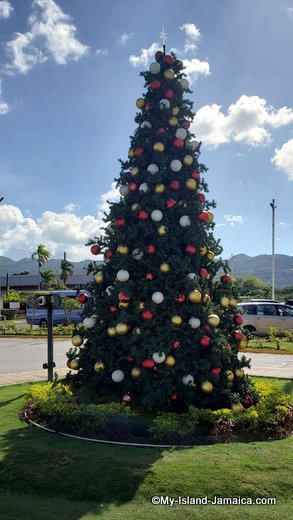 Photo: Decorated Christmas Tree in Jamaica
It's beginning to look a lot like Christmas! Christmas is only a few weeks away and some of us have had our plans for the season in motion since October. Many of us will be visiting family and friends and for Jamaicans, it is no different. Tickets have been bought and vacations have been planned long in advance for the holidays. This holiday is not only important in Jamaica because of its connection to Christianity, but also because the holidays are a time for family, reflection and lots of food. Here are 11 signs it's almost Christmas in Jamaica.
Christmas Carols - While many were able to wait until at least mid-October to begin playing Christmas carols, that was the best they could do. DJ's could hardly wait to dust off their Christmas playlists with classic carols as well as our very own Jamaican Christmas songs. Every store you go into will be playing "O come all ye faithful" until well into January and we will love every minute of it!


Christmas Decorations - Again, decorations are very important in Jamaica. Most businesses have already put up their elaborate decorations and the employees have donned their reindeer and elf gear. Larger than life decorations will also start going up in the towns and cities across the island soon. Then we'll have a tree lighting ceremony! Not sure what that is?


WATCH THE VIDEO BELOW




Christmas Flowers are in bloom - When poinsettias begin to bloom, then you are sure to be in the Christmas season. Though there are various colours of the plant, the distinct red colour is the most popular in Jamaica and therefore has been christened as Christmas flowers. Also, pine cones are a big part of decorations for the season here on the island as well. Most Christmas wreaths or bouquets have these two plants as centrepieces. Plus the not-to-be-forgotten Christmas Bush which makes its fragrant white debut at this time of year.


Christmas Breeze - Though Jamaica enjoys a tropical climate year-round, it gets a little bit cooler this time of year. Those visiting from colder parts of the world may not notice but for us, it is a significant change in weather and it is now time to start wearing our sweaters or cardigans everywhere.


Holiday Giveaways and Promotions - In the true spirit of the season, many businesses use this time as an opportunity to give back to their customers who have supported them throughout the year. During this period, there is no shortage of advertisements on TV, radio, newspapers and now social media about various promotions by companies of all sizes. These are usually in catchy jingles and fun skits.


Road Cleaning - In true Jamaican fashion everything has to be clean for Christmas and our roads are no exception. Every year, in December the government contracts people to clean the roads and drains in their respective communities. The grass is cut, sidewalks and signs are painted, overhanging trees are limbed.


Traffic - Now, a not so fun reminder that Christmas is fast approaching. The traffic this time of year is almost unbearable. More people are running errands, coming to and from the airport and completing other tasks. It's best to get out as early as possible and head back home to beat the traffic.


Company Socials - This is as much of a big deal in Jamaica as it is across the world. End of year parties, socials and retreats are happening for most if not every company. No matter if it is just an afternoon or if it's a weekend long event, there is time set aside for the employees to relax and celebrate the year coming to an end. There is lots of food, drinks and gifts for everyone. Some companies have secret Santa, cheerie, pixie gift exchanges at this time as well.


Treats - Christmas is a fun time to be a child. Many organizations from churches, to community committees to businesses, have treats at this time of the year for children. There are usually lots of games, sweets and gifts for every child, which is usually a toy of some kind and back to school essentials for the upcoming semester.


Christmas Cleaning - With family and friends coming over, you have to ensure the house is looking spectacular. Around this time, people will clean up, both inside and outside the house. Fences are mended, new drapes and bed linen are prepared, flowers are planted and the most important part of it all...the house is painted. You will spend hours at the paint shop trying to find the perfect colour for your home, after all, it's going to be there for an entire year.


Gifts From Abroad - One of the best signs of Christmas is the numerous barrels and other packages arriving from our friends and relatives from overseas. Usually, these packages contain food items, clothing (specifically our Christmas day outfits and church attire for Christmas and New Year church services), you'll also find household and personal care items tucked inside.

Christmas is always an exciting time in Jamaica. We enjoy the food and festivities plus the opportunity to spend quality time with our loved ones.

I also recommend you read, Timeless Jamaican Christmas Music Do You Remember These Gems?.

Regards,
SS

Editor's Note
We would love to know your thoughts! Share your comments here.