7 Perfect Jamaican Dumplings
by Kesha Stewart | Associate Writer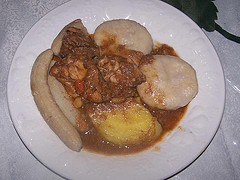 Photo: Jamaican Brown Stew Chicken with Dumplings
Jamaicans have a long and loving relationship with dumplings. We can't seem to get enough of it. I remember my dad telling us a story about a wife who prepared dumplings for dinner. She decided to cook 11 dumplings for her large family. When her husband came home he asked what was prepared for dinner. His wife informed him and he then inquired how many had been saved for him. She informed him that he got 7. This shocked him and he immediately asked, "How come out of 11 I only get 7?" We had a good laugh about that.
Well if you're a dumpling lover and you want a break from regular white flour or wheat dumplings you will love these other varieties of dumplings you can make. Switch things up a bit.
Corn Dumpling
I'll be honest with you, corn dumplings are one of my favourites. Typically Jamaican corn dumplings are made from dried field corn that is steamed on the cob for a while to rehydrate it. My mom usually leaves them in the water overnight and grates them in the morning. The flour generated from your hard work grating is used to make the dumplings, a little counter flour is sometimes added to help the dough to come together easily. You can allow the dough to rest a bit like I see my mom do and then you make your dumplings in your desired shape and size and add to rapidly boiling water. After twenty minutes or so they are ready to be served with your favourite meat or vegetable.


Barefoot or (so-so) Dumpling
Barefoot here means without meat or vegetables. Poor families tend to struggle to come up with an accompaniment to their meal so they get creative and one way is to make so-so food taste good. You'll need skills of course. A good recommendation is to use coconut milk to make the dough. Place onions, scallion and thyme, a scotch bonnet pepper and perhaps some more coconut milk in the water you will boil the dumplings in. When it begins to boil vigorously, place your dumplings in it and allow them to cook and then serve hot. If you do not wish to be so adventurous as to try the dumplings without the meat you can serve it with your preferred meat or vegetable such as curried chicken or steamed vegetables.


Cornmeal
After Hurricane Gilbert in 1988 counter flour, like most things, was scarce. People got creative finding ways to prepare palatable meals for their families. My mom was no different; her family of five was fed everyday. One of the things I saw her do was make dumplings with cornmeal only. This was quite shocking at the time. She had no flour at all and I thought it was going to be impossible so I watched her closely and asked many questions. She pulled it off and made the smoothest cornmeal dumplings I'd ever seen. Warm water was used to make the dough instead of room temperature water; she said that is the secret. They were very good too. You can make these using refined cornmeal. I make cornmeal dumplings sometimes too, they are gluten-free. It's better if you use refined cornmeal though and your water should be boiling sharply before you begin adding your dumplings. Serve with whatever you choose.


Cassava Dumplings
Jamaican Cassava dumplings are very good. Some would say they are the best. To make them you will have to use cassava flour considered to be the best dumplings in Jamaica. I'm not sure if it's absolutely necessary but my mom adds a bit of counter flour to the mixture, blends it with her finger and then makes the dough as usual. When the water is boiling the dumplings are made and added where you can leave them to boil for a good 25 minutes. Serve hot with your chosen meat or vegetable.


Green Banana Dumplings
Did you know that green bananas can make dumplings? Green banana dumplings are delicious. If you are looking for something a little different than white flour dumplings here is what you can do. Wash and remove the skins from mature (not ripe) bananas. Score the bananas from top to bottom with a sharp knife, wear a glove and then remove the skin beginning at the point you scored. Remove the skin completely. The gloves will help you avoid the staining of your hand. You then grate the bananas, using according to the amount of dough you intend to make. Incorporate your counter flour into the grated banana then mix in your water till your dough is smooth. Place your dumplings in the pot when the water begins to boil. They will not look white but they will taste very good. Cook for about 20 or so minutes and serve hot with anything you like. I prefer this with steamed fish.


Carrot Dumplings
To make carrot dumplings, yes you heard right, we make carrot dumplings in Jamaica, you will need some counter flour to which you add a few grated carrots, combine both and then mix with room temperature water until the dough is firm. When your water begins to boil well you add the dumplings. These will need to be cooked for about 20 minutes. Serve hot with whatever you choose. However, I would advise that the dumplings be consumed while hot. Carrot does not keep well, so make just enough carrot dumplings so that you will not have any leftovers and risk having them go bad.
A few quick tips when making dumplings.
Make sure your water is boiling before you add your dumplings as they tend to have a soaked look otherwise.

Separate them by stirring immediately and then occasionally after that.

Serve dumplings immediately to avoid a soaked look. Which is quite unattractive. You can remove and drain if you plan to have leftovers.

Observe your pot well, as based on the starch content the water foams and boil over onto your stovetop. You can leave the pot to cook without the lid on - that really helps.

Cooked dumplings float but you will only see this if you do not cram your pot.
Let us know which of these dumplings you have tried and what you think about it by commenting on this article.
I also recommend you read
Jamaican Fried Dumplings (aka Johnny Cakes)
.
Regards,
KS
References:

Boiled Dumplings, jamaicans, https://jamaicans.com/dumpling/

Editor's Note
Don't hesitate to
submit your questions here
! With well
over 2000 questions already answered
, chances are we can assist :-)