A Legend - Jamaica's Usain Bolt Wins Unprecedented Third 100m Title
by My-Island-Jamaica.com
Published August 15 2016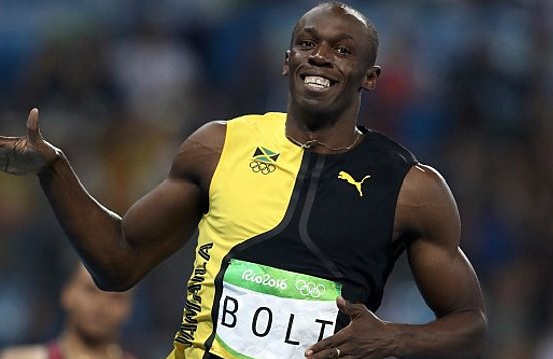 Photo Courtesy: BBC
It was pandemonium in Jamaica last evening as the nation joined the athletic and sporting world in witnessing history.
Jamaica's own 'son of the soil', Usain St. Leo Bolt, won the men 100 meters race at the Rio Olympics to become the only human to win 3 back to back 100 meters Olympic titles!
You probably
saw my note
that preceded this? Yeah, there was an extreme level of tension & anticipation going into the semifinal of the Men's 100m final - especially so as many thought that Bolt was still not at his very best.
He looked OK in the heats, but the result from the 2015 world championships has taught me (and many others) never to doubt a champion, and moreso someone with the name, Usain Bolt.
And so he came back back looking like his smooth self in the semifinals and then came back out in less than an hour to create history:
Hit the PLAY button.
The commentator exclaimed, "He's immortal now!" It is one of the greatest athletic achievement of all time, if not the greatest".
"You have just seen a moment, the likes of which, none of us is ever likely to see again in this lifetime, or any other for that matter - he is a legend".
"He creates an electricity and an atmosphere that no other athlete can produce", he continued.
Whew! What a man?
And by the way, I want to take time out to single out Justin Gatlin. He probably made some mistakes but he remained a solid rival to Usain Bolt - despite the unfavorable criticisms . I was really impressed with his statement.
"Congratulations to Usain Bolt. He delivered, and credit to him," Gatlin said. "When it comes away from track, there is no rivalry. He has pushed me to be the athlete I am. It's an honour to say too that I have given him some of the closest races he has had." (The Gleaner)
Well said Justin! And thanks indeed for pushing Usain. Surely, his races would not have been as exciting without some like you driving him to be his best!
And by the way, we might still be in for another treat as Bolt remains on target to leave Rio with a third successive Olympic treble, having won the 100m, 200m and 4x100m relay titles in 2008 and 2012.
It's almost nonsensical now to ask, 'Can he do it'. A better question would probably be, 'What time will he need to do it'? :-)
I welcome
your comments