Applying online for a copy of Jamaican Marriage certificate from the UK
by Michelle
(London UK)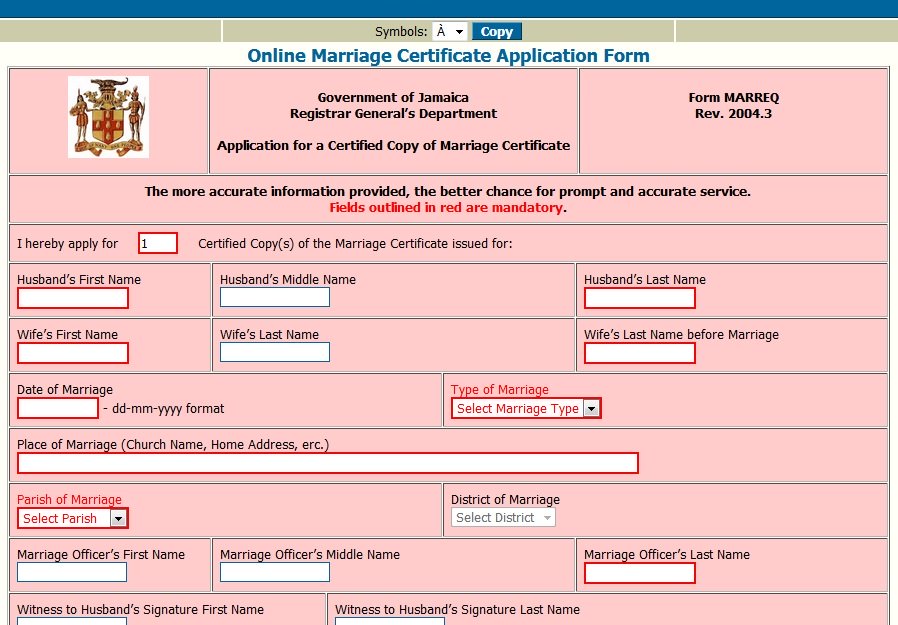 Jamaican Marriage Certificate Application

We have quite a few articles on apply for vital documents here in Jamaica, including the certified copy of the Marriage certificate. Few though is probably more comprehensive than this, a response post to an asker, thanks to Kesha!
Here is the question, with the answer.



How do I apply online for a copy of my Jamaican Marriage certificate from the UK?

RESPONSE: by Kesha Stewart
So you got married in Jamaica and you had to leave before the official copy of your marriage certificate was prepared? That's a bit of a damper isn't it?
Well not really. No matter where you are you can still apply for a certified copy of any needed document at the Registrar General's Department. That includes marriage certificates. The RGD is headquartered in Twickenham Park, Spanish Town, St. Catherine Jamaica.
I can recall those days when people used to have to get on a bus to said location just to make an application for a certified copy of any certificate; birth, death, marriage etc.
The lines were so long that many people would head into Kingston, overnight there and then head to the RGD's offices 'before day light out' (at the crack of dawn). I definitely wouldn't want to be forgetting any piece of vital information needed after travelling so far.
I also remember my former boss, as a community service initiative, would make applications and do pick up of birth certificates for them. By then the RGD had a regional office in Mandeville.
Larks though! Times have really changed. Now with a few strategic clicks you can make an electronic application for a birth, marriage, still birth and death certificate from right here in Jamaica or anywhere else in the world, and since July 1, 2006, you can even pay for it online. Interestingly, you may also request some genealogical research to connect to your roots.
However, it (the RGD) does not register divorces. For additional information, contact any of our RGD offices at 876 619-1260 or 876 749-0550; Email: information@rgd.gov.jm visit their website at www.rgd.gov.jm; Facebook @rgd.jamaica; twitter and Instagram @rgd_jamaica
The Registrar General's Department (RGD) has been faithfully recording and storing the nations records since 1879 in Jamaica's old capital – Spanish Town, that's a mere 142 years ago.
So no need to worry about them locating your information.
For a long time, the RGD issued certificates on strips of paper about 2-3 inches wide by 8-10 inches in length. The seal of the RGD was impressed on the document. However, your certificate is now being printed on Security Paper. It has been like this since May 7, 2001. The certificate looks classy and attractive with the information printed instead of being hand written as in the old days.
In Jamaica we refer to official certificates from the RGD as the "Humming Bird" copy, this is because of the distinctive Humming Bird, which is the Jamaican national bird, that is featured on the certificate. So for example, we have a 'Humming Bird' copy of our birth certificate.
You may be concerned that not being in in Jamaica will affect the delivery time of your document. Rates and delivery times for documents requested are clearly stated at the time of request of the service. you can put your fears There is a standard delivery time based on the country in which you live.
There are also express delivery rates for which the service charge is higher and the delivery time is reduced. The information on rates can be view on the RGD's website.
Another concern you may have is that the RGD may have challenges locating your document. However, the documents are stored electronically and you are always given a temporary copy of the document e.g. Marriage certificate, with a corresponding number by which the RGD will use to carry out the search for your requested document. The RGD can do physical searches for hard to find documents. This is billed at a different rate though.
It is important that you supply accurate information to the RGD at the time your information is being initially captured. Where possible use a certified copy of your birth certificate to ensure that your name is spelt correctly on your marriage certificate.
Check the temporary document before your marriage officer leaves to so that you can verify the information was captured accurately. Dates, gender, location and addresses where applicable are important and are among the most commonly made mistakes that force people to do correction of error procedures on their document.
Another great feature that the RGD has is that at time of requesting your document they will supply you with a printable (printed if you're doing it in person) sample copy of the document so that you can verify the information.
They will only proceed to prepare the document after you have signed off. This does not mean that the agency will change the records they have to correspond with what they have.
If there are variances between the information you have and what the RGD produces/finds on their system you may be required to produce other documents such as school records to confirm correct the discovered error.
In the event that your document is in accurate do inform the agency so that it can be corrected if it is their fault.
When you receive your document please ensure that you do not bend or fold it. I have found that if the certificate is creased the information at the creased areas becomes less legible and is sometime completely indecipherable.
One thing is for sure no matter where you are you can apply online to the RGD for your certificate of choice. The process is easy to follow and your document/s are prepared in a timely and professional matter. Furthermore, the document itself is of a high quality. So go ahead, make your online application for whatever certificate you need.
P.S. See also:
Key Things To Know About Getting Married In Jamaica
.
Editor's Note
Do you have another question, don't hesitate to
send it to us here
! With
well over 2,000 questions answered
, chances are we can help you :-)