Blue Mountain Night Hike
by Tara Chen
(Blue Mountain)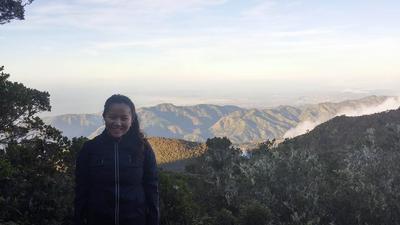 Photo Contest Entry #33 -Blue Mountain Night Hike

I am an intern from Canada working in Jamaica for six months and it has been a blast!

I have not been to many places to visit and since I was planning to go visit my family for Christmas, I knew I had to check off something on my list before 2016 ends!

One of my goals was to climb Blue Mountain Peak and I did it!

I joined a local hiking group who was heading the challenge through the night (literally- we started climbing at midnight!).

I had no sleep going in due to a busy day beforehand and I was so worried that I would not make it.

Thankfully, adrenaline kicked in and I pushed through. We had headlights and followed each other's voices to get through the trail.

With teamwork, we made it up to the peak at 5:30 am. I was disappointed because the cloud was in the mountain so we were not able to watch the sunrise but what amazed me was the walk down the hike.

Since we had gone up in the dark, everything was pitch black. Going down when the sun came out, we were able to gaze upon the beauty of the Blue Mountain.

I felt like I was in the amazon rain forest! It truly was an experience!


---
See also:
Blue Mountain Coffee
&
The Geography Of Jamaica
Have a picture that depicts the essence of Jamaica?
Submit it here
for a chance to win! ||
Click Here
to see other adorable entries.