20 Famous Bob Marley Quotes


Top Quotes By Robert Nesta Marley


Sharing Is Caring! Share this awesome content with your friends now.

New! See the real Jamaica in VIDEOS!
Click Here and see why over 140,000 fans are raving about my YouTube Channel!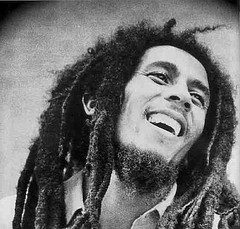 Bob Marley Quotes - by Kemoy McCurbyn

Bob Marley is without a doubt the greatest reggae artist that ever lived, and even though he died, his legacy is known throughout every continent on earth - and in many case, a legend.

New! Ready To Visit Jamaica?
Join countless of travelers who have already unlocked the secrets to experiencing Jamaica on a budget. Click Here and find out how.

And, if you ever need a trustworthy, friendly and knowledgeable local guide, consider booking a private tour with us!

---
Bob's words flowed through his music and in any of his songs you can take the melody and tune away from the music, listen to the words and  be mesmerized by his amazing words of inspiration. 

One thing I know for sure is that Bob was definitely a lover and not a fighter.

I will now provide you some of Bob Marley's famous quotes. I hope that they provide some inspiration to you as well.


"You never know how strong you are until being strong is the only choice you have." – Bob Marley


"Every man got a right to decide his own destiny." – Bob Marley


"Some people feel the rain, others just get wet." – Bob Marley


"Love the life you live, live the life you love." – Bob Marley


"The most beautiful curve on a woman's body is her smile." – Bob Marley


"One good thing about music, when it hits you, you feel no pain." – Bob Marley


"Judge not before you judge yourself.  Judge not, if you're not ready for judgment." – Bob Marley


"Your worst enemy should be your best friend, and your best friend, your worst enemy." – Bob Marley


"Emancipate yourself from mental slavery, none but ourselves can free our mind." – Bob Marley


"Don't forget your history or your destiny." – Bob Marley


"Don't gain the world and lose your soul, wisdom is better than silver and gold." – Bob Marley


"Open your eyes and look within, are you satisfied with the life your living?" – Bob Marley


"You can't just live in that negative way……make way for the positive day." – Bob Marley


"Overcome the devils with a thing called LOVE."- Bob Marley


"You say you love rain, but you use an umbrella to walk under it.  You say you love sun but you seek shade when it is shining.  You say you love wind, but when it comes you close your window.  So that's why I'm scared when you say you love me."  – Bob Marley



"I know I'm not perfect and I don't claim to be, but before you start pointing fingers, make sure your hands are clean." – Bob Marley


"The greatness of a man is not how much wealth he acquires, but in his integrity and his ability to affect those around him positively" – Bob Marley


"Life is one big road with lots of signs.  So when you're riding through the ruts don't complicate your mind.  Flee from hate, mischief and jealousy.  Don't bury your thoughts; put your vision to reality.  Wake up and Live."- Bob Marley

Here is one of my favorites:


"If she's amazing she won't be easy.  If she's easy she won't be amazing.  If she's worth it, you won't give up.  If you give up, you're not worthy……… The truth is everybody is going to hurt you; you just have to find the ones worth suffering for." – Bob Marley

My personal favorite quote of them all though is  Marley:
"You may not be her first, her last, or her only.  She's loved before, she may love again.  But if she loves you now, what else matters? 

She's not perfect, you aren't either and the two of you may never be perfect together. 

But if she can make you laugh, cause you to think twice, and admit to being human and making mistakes, hold onto her and give her the most you can. 

She may not be thinking of you every second of the day, but she will give you a part of her that she knows you can break; her heart. 

So don't hurt her, don't change her, don't analyze and don't expect more than she can give. 

Smile when she makes you happy, let her know when she makes you mad, and miss her when she's not there." – Bob Marley


For more about the life of Bob Marley, the world's reggae music legend, click here.

Pages Related To Bob Marley Quotes

Return to Famous People from Jamaica from Bob Marley Quotes
Return to My Island Jamaica Homepage from Bob Marley Quotes

Back To Top of Bob Marley Quotes
Back To The Top Of This Page
New! 

Get My Latest Book👇🏿
You asked, I've answered! You no longer need to save for months or years, to enjoy paradise!

JAMAICA On A Budget is your passport to experiencing what I call 'The Real Jamaica' on a budget!

I spilled the beans! sharing my top tips on finding cozy accommodations and secret gems, only the way a native could! Click Here to pick it up on my e-store and start saving now!
See The Best Of Jamaica -
In Videos!
| | |
| --- | --- |
| | My channel reaches over 140,000 subscribers worldwide and has leveraged over 11 million views, sharing, what I call 'The Real Jamaica'. Subscribe today and join our family of viewers. |

---
P.S. Didn't find what you were looking for? 
Still need help?
Click Here to try our dependable and effective Site Search tool. It works!
Or, simply click here and here, to browse my library of over 500 questions and answers! Chances are someone already asked (and got an answer to) your question.
---