Can I Use Canadian Currency in Jamaica?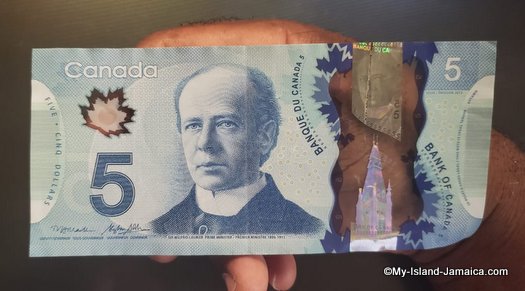 Can I Use Canadian Currency in Jamaica?|| Answered by Kadian Clarke || September 8, 2019

You certainly can!

The four main convertible currencies in Jamaica are the USD, Euro Dollars, Pound Sterling and yes, the Canadian Dollar.


Is The Acceptance Of Canadian Dollar Limited To Particular Places or Businesses?
Canadian Dollars can be used at all popular tourist areas and resorts. However, most or all items are priced in USD at those locations.
But rest assured, for every purchase you make, conversion from USD to CAD is usually easily done.
Credit and debit cards are also accepted at these major locations, so if this is your preferred mode of payment, be sure to notify your credit or debit card provider of your intentions for smoother and faster transactions.
Also, since credit and debit cards may attract charges, a prepaid master card such as the Lyk card would make a great substitute.
Simply make the necessary deposits to the card and it will be ready for use when you arrive.
On the other hand, less touristy areas such as supermarkets, roadside shacks, stalls and even taxi cabs use Jamaican Dollars. But even then, the Canadian currency will also be accepted.
Note though that their exchange rate will be usually less than the approved dealers. Also you will receive your change in Jamaican Dollars.
How to acquire Jamaican Dollars
Jamaican Dollars can be purchased at any authorized location such as the cambios, banks or hotels.
What is the Current Exchange Of Canadian Dollar to JMD?
At the time of responding to this question, on average, 1 Canadian Dollar equals 101.86 Jamaican Dollars, and 1 United States Dollar is equal to 1.33 Canadian Dollar.
Be sure to read more about this topic and other
currencies accepted in Jamaica here
.
I hope you find this article helpful.
Until next time, happy vacationing!
Editor's Note
Have Something To Say As Well? My other website readers would love to hear from you. Please
click here
to share your your thoughts.
P.S Read
other editorials here
.