Can I use my US cell phone in Jamaica?
by Answered by Aneisha Dobson | Associate Writer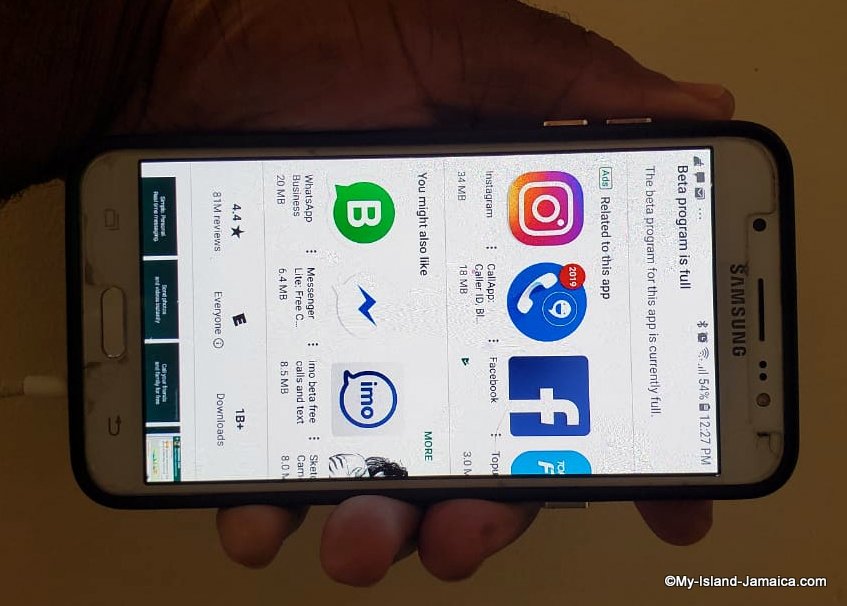 Yes, you can!
Staying connected in this high-tech era has become easier and more simultaneous, and cellphone usage is the epitome.
This device, the cellular phone, has been transformed into a high-tech all-in-one device capable of making voice and video calls, sending text messages, browsing through the web and social media, and communicating and connecting friends and family on a more interactive basis.
Once a luxury item, cell phones have now become a daily necessity in every area of our lives.
Jamaican tourists typically use their cell phones for staying in contact with friends and families back home and sharing their vacation moments through social media.
What You Need To Know Before Using Your Phone In Jamaica
If you're a tourist from the US and you're wondering whether or not to use your cell phone in Jamaica, here are some key things to consider.
First and foremost though, is how long and how often you expect to speak to friends and family back home. Other key considerations are:
Roaming
Once you begin using your cell phone outside the United States you are officially 'roaming' - that's what it is called.
Just look on your notification bar, there's usually a symbol displayed to indicate you are roaming, but this symbol differs from phone to phone. It may be prudent to find out what your phone's unique roaming symbol is.
What exactly is roaming?
Roaming is the ability for cellular users to make and receive voice calls, send and receive SMS, receive data service and access other services when travelling outside of the geographical coverage area of their home network due to agreements between your service provider and other network operators.
Major US mobile service operators, such as AT&T, Sprint, T-Mobile and Verizon, are known to work reasonably well in Jamaica.
However, before you jump on the roaming bandwagon, it is important that you inquire from the service provider all the necessary information regarding roaming charges and international roaming plans. Yup, it comes at a cost and a pretty expensive one at that!
Roaming fees are known to be hefty and customers sometimes end up with a massive bill upon returning home! Some mobile service providers have offered special rates and international plan packages for travellers.
Before leaving the US, you should consider purchasing an international plan which usually is a combination of data, SMS and voice calls. This is considered a better alternative compared to the pay-as-you-go option.
Is your cell phone unlocked?
If the answer is yes, then here's another solution.
An unlocked phone is one that is not restricted to a specific network or carrier. Therefore, you can insert a SIM from any carrier into your unlocked phone.
So, by purchasing a local SIM from one of the two major mobile service providers currently in Jamaica, Digicel and Flow, you will be able to use our network and avoid the high roaming charges. They have some great cheap plans to call back the USA.
This cost-effective option allows you to still use your personal device and utilize services such as call, text and data access on the local network.
It should be noted, that if you plan on purchasing a SIM, you will have to bring some type of identification (Passport, Driver's license, etc.).
In order to make calls and activate plans, you'll have to purchase prepaid top-up cards or you can top up online but the local cost is a lot cheaper than in the US.
If your phone isn't unlocked, there is still hope, you can purchase a cheap phone and SIM card from one of the local mobile service providers (Digicel or Flow). You can get a smartphone as low as US$30.
What about Wi-Fi?
As I indicated earlier, technology has made communication oh so much easier and more instant.
A scroll through the Apps Store or Google Play Store will reveal dozens of applications that facilitate communications.
These mobile apps enable voice calls, video calls and text messaging over the internet.
The following are a few of the popular ones:
WhatsApp (Android and iOS)

Viber (Android and iOS)

Facebook Messenger (Android and iOS)

Telegram (Android and iOS)

IMO (Android and iOS)
Most hotels and resorts in Jamaica now provide free Wi-Fi access for guests. Just bear in mind though that it is still possible that others may require you to pay for the services.
Note though that the receiving party must also have internet access (Wi-Fi or mobile data) to complete the communication.
What Do I Recommend?
Personally, I have been an avid WhatsApp user for quite some time and have found the service to be very convenient and cost-reducing.
At times you may experience some call drops, but the free service out-shadows these tiny glitches which I see getting less.
Phone Rentals
Another trend that has become an increasingly popular business venture is cell phone rentals.
Yes, many individuals and even local tour companies offer tourist cell phones for rental. These phones include international minutes and, at times, local minutes.
While every company will have a different price and a different package, the cost is usually way cheaper than roaming charges.
They typically meet you at the airport and deliver your phone but some may even bring it to the hotel! We have a recommendation for
phone rental here
.
So which option do you plan to use? Share with us in
the comments below
.
Until next time…
AD
I also recommend you read
Wi-Fi or Data Plan While on Vacation in Jamaica
.
Regards,
AD
Editor's Note
We've answered hundreds of questions about your Jamaican vacation,
Updated: August 2, 2022