Covid Testing Locations In Jamaica
A few days ago my cousin Andy reached out to me from the USA.

He apparently has a friend who was leaving Jamaica to visit the USA who learned that he needed to do a Covid19 Test to (re) enter the country - which is true.

In fact, the USA's Center for Disease Control and Prevention announced the requirement, which became effective on January 26 which requires that all air passengers arriving in the US from Jamaica (and all foreign countries) to tested no more than 3 days before their flight departs and also to present a negative result (or documentation showing that they have recovered from COVID-19 to the airline before boarding.

Unfortunately, neither him nor his friend knew where in Jamaica to go and get the test administered, so he reached out to me.

And here's the kicker, I didn't know either, lol :-)

But I started the research (calls, internet and friends) and came up with this (below), a detailed list of Covid Testing Sites In Jamaica which proved to be extremely helpful to him, especially since we was on the Mandeville side.

Kindly note that the Ministry of Health also has a list but it apparently does not include all the agencies and sub sites and so this one should be a bit more comprehensive.

I've included the phone numbers to each lab/agency as well so you can reach out to them directly for further information.

You'll also noticed that I sorted it by region (Montego Bay, Kingston, Mandeville, Negril, Ocho Rios) to make it easier for you.

Here it is (below).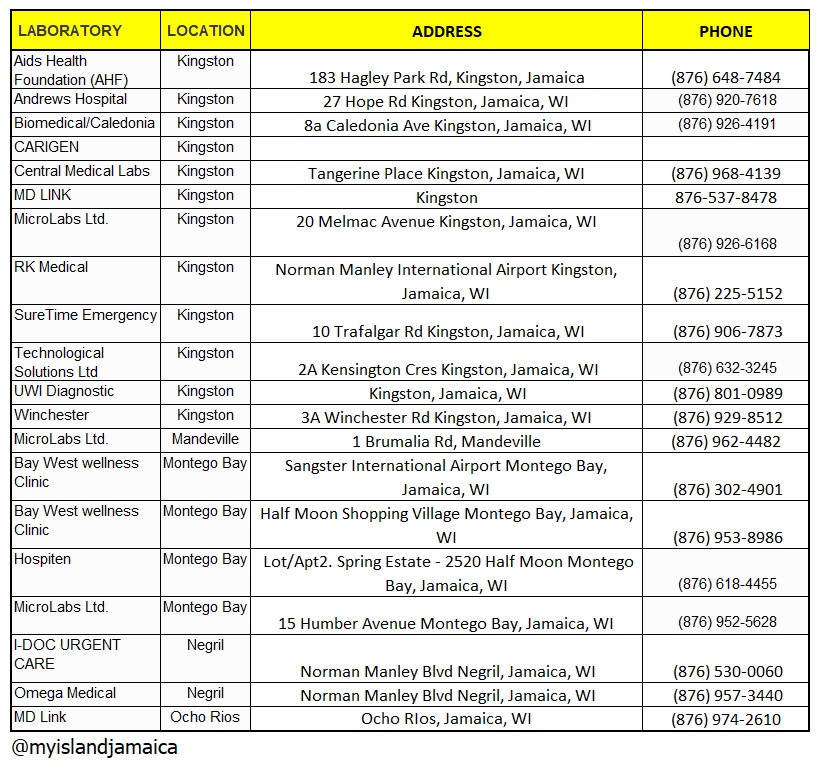 And yes, I shared it with Andy and his friend!

So it's over to you no! Be sure to share this with others who you think might need to know or use this information.

Regards,
WG.

P.S. To the question of whether they do the Antigen or PCR test, most of the labs does both, but please reach out to them to confirm first.

P.P.S. I also referenced the information at https://www.moh.gov.jm/covid19/covid19testing/