Dead End Beach, Montego Bay - Our Beach Trip Review
by Wellesley
(My-Island-Jamaica.com)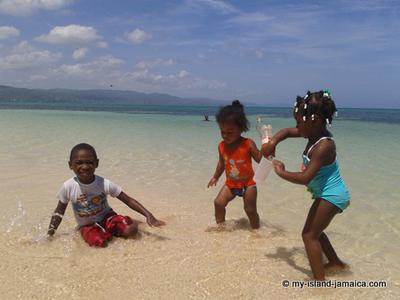 Kids Playing In Sand At Dead End Beach
Today we went to the beach! And this time to the popular Dead End Beach here in Montego Bay, Jamaica... thanks to sister Heidi and her family for the invitation.

My kids love going to the beach, but to be brutally honest with you, I can't seem to find the time to take the beach trips frequent enough; there is always something competing for my time.

Well it happened today! And we had loads of fun!
I mean real good fun!

The group of us; my family, Heidi's family and a few other church friends, were joined by a few young men, who I figured, realized that our area was where all the fun was :-)

The highlight of the trip was probably the 'keep up' of the ball in the water. We set records - and broke them! All this while the kids stayed on shore playing in the sand.

Sister Heidi seemed to particularly like when I declare 'Victory' and splash the water skywards, after each feat was achieved - lol!

My family joined the group at about 9:00am and we didn't leave the water, except for snack (hotdog, fish & bread and drink) until close to 3pm!

It was lovely! Funny enough, Dead End beach wasn't my first choice, but I was really impressed with the beach today, seems like some work was done to it restore it recently.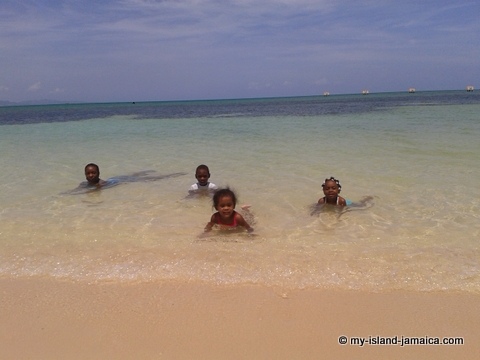 In fact, if you ask me now, I would probably say it is right up there with the other public (free) beaches in Jamaica. And the area is pretty safe too.

It is at the extreme end of the hip strip (Gloucester Avenue) and is literally on the side of the road, toward the back of the Sangster International Airport.

A low wall separates the beach from the road so not only is the area pretty busy (after the morning periods), it is also frequent by the so called tourist police.

We counted the scores of planes coming in. I really don't believe that there was more than a 5 minute interval before each plane arrived!

By the way, did I tell you that I saw a sea urchin live for the first time?!

One of the regular beach men at Dead End beach (for 25 years), caught it a little further out in water; It was beautiful (see picture above).

We implored him to release it back into the water but he was not budging, arguing that they will prick beach goers, and claiming that he can make money if he sells it. I am still hoping he releases it back though.

But anyways, we truly enjoyed ourselves (as the pictures show). I am already looking forward to the next visit there.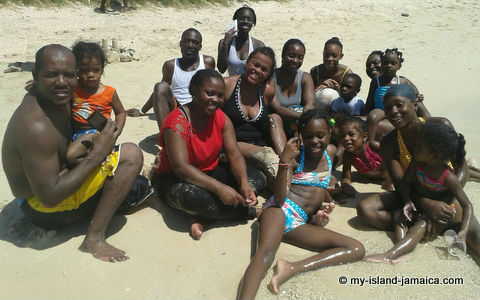 Note: There is nothing spooky about the name 'Dead End'. It got its name from the road which (at that point) is literally the dead end of the street (Kent Avenue). In the past it was known as the Sunset Beach.

Dead End beach is still a free public beach so no reservation is required to get there but there are also no bathroom facilities nor other amenities there; you'll have to bring whatever you need.

Multiple vendors are on the side of the road, however, if you need drinks, snacks and knick knacks.

To learn about (and see pictures of) other adorable Jamaican beaches, click here.

See also: Beaches In Montego Bay