Delawna Brown - A young man making a difference in Jamaica
by Rashida Bryan
(St. Catherine)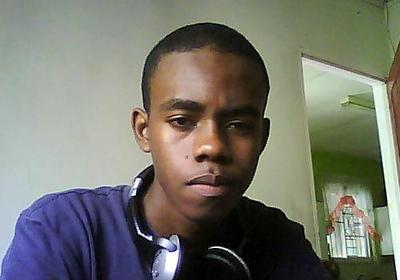 Delawna Brown
His name is Dalawna Brown. He goes by the alias Pastor or Falaskie. When he was at Stony Hill Academy doing a course, persons start calling him Pastor because he was the only Christian in his dormitory.


Dalawna is from Clarendon. He went to Denbigh High School. Mr Brown enjoys playing the piano, drum, writing poems, singing and he also does artistic work.He is a very talented Jamaican young man.
He also tries to live by example and tries to encourage young people in the right path. Where did he get this plethora of talents? According to him, his mother taught him how to play the piano and his friend taught him how to play the drum.
That same friend introduced him to poetry. His mother is also a singer and his father does some dejaying. He is also an active member of his church and sings on his church choir.
Delawna is currently in school but is also pursuing a CISCO course where he plays a role in leadership and an unofficial role as peer counsellor.
When asked what motivates him he says, his mother. She was also the one that encouraged him to get baptised and give his life to God.
His mother always wanted the best for him and he hopes to be employed so that he can help his mother. His dream is to be part-time gospel performer.
One of his notable accomplishments to date is the counseling of peers who have issues such as suicidal thoughts and relationship problems.
It is plain for all to see that this young man is a multi-talented young man who is destined for the stars.
Delawna's favourite gospel artistes include Deitrick Haddon (international) and Kevin Downswell.
Delawna developed a passion for music
while attending Sunday school where he was the lead singer. He already has a few original songs. He can be contacted by facebook.com/DelawnaRoyaltyBrown or by cellular 1-876-419-1767 for performances and talent showcases.
The following are two original poems done by Delawna Brown...
A Daydreamer's Thing
I wrote this poem in the days of my youth,
When I went sky diving without a parachute.
No I wasn't insane or mentally polluted,
My knowledge was undefined 'cause it wasn't minute (small).
So there I was in the air falling to the ground
And decided to take a look around,
I saw a bird flying by
So I ask "Hey can you teach me how to fly?"
The bird laughed and reply" No, you will fall to the ground and die!"
"But that's what they all said,
Persons are down there waiting to see me drop dead!"
Then the bird replied "well, their words are stable,
Unless you do the impossible."
&
What do you do?
What do you do when you done
All you can and it seems like
You can't make it through?
And what do you say
When your friends turn away
And you cried?
And how do you live
When it's not worth while doing
Because of the problems you
Have been given?
After I've done all I can,
I just cried
Who do you trust?
When you have lost it
In the person you have entrusted it in
Because they have rubbed your problems in?
To be honest, after I've done all I can,
I just cried.
How do you stand?
When your feet has being crippled
By the weight of depression
On your shoulder?
And how do you run
Under the weight of contention
When you see its dark clouds coming over?