Deported To Jamaica | Need Help To Renew My Passport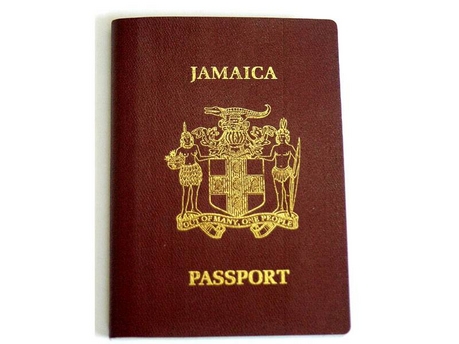 Photo: Specimen Jamaican Passport
I left Canada because of some personal problems there. I want to renew my passport but after I paid all the fees and go to pick up my new passport, I am told that I have to get a sibling older than myself to identify me just to begin with but that will not end there.

I must then talk to an investigator and still, that may not end there.

What can I do to leave this country? I have no passport now. I am just sitting here targeted by the locals for robberies and called foreigner. I don't know anyone here so I want to leave.

RESPONSE: by Deon Clarke
Hi Friend,
Thanks so much for visiting the website and for your question. I will be happy to provide you with as much information as possible. The details of your request are somewhat sketchy but I will try to assist based on the information you have provided.
From what I gather, you have been deported from Canada to Jamaica. Assuming that you were born here and maybe migrated to Canada as a child, you are now back here and you do not know anyone as can be imagined.
You applied for a renewal of your passport which I am assuming was done through an agency as you paid for the services and then went to collect your passport as expected. You are now facing these challenges of having to have an older sibling identify you and to speak with an investigator. I presume if you had gone to the passport office directly at the initial stage, these issues you are now having would have been identified or highlighted and resolved.
You also mentioned that you left Canada because of personal problems. Although you have not stated the nature of the problems, it could be a possibility that your situation might have been reason for further investigations as you mentioned.
After presenting your case to an officer at the passport office, I was advised that you would need to go the passport's office Deportation Unit in Kingston and speak with an officer there and explain your situation. Once you have been deported, your original passport would have been sent there. Based on their investigations they would then give the clearance for you to be issued with a new passport.
You would then be required to go to the Customer Service Department where they would further assist you as they would have also been advised of your clearance. You would also need to take the receipt of your application/payment if you have it.
Your agent might not have been aware of the details of your situation and even the fact that you were deported. That is highly confidential information, so the passport office would not divulge that kind information to the agent. Hence, the reason you were asked to go in to the office and speak with an investigator.
As you would imagine, different situations require different processes and in this instance, this would be the process for you.
It's unfortunate that you have to go through this experience and being in a position where you are in Jamaica wanting to leave and unable to do so.
You must also be aware that after deportation, it is also highly possible that you might not be able to return to Canada until after a certain timeframe. Again, that is dependent on the circumstances.
So my suggestion to you is to go to the office as directed and all being well, the matter should be resolved pretty quickly and you can be on your way.
I do hope the information provided was beneficial to you and other readers.
Wishing you all the very best in your endeavors!
See also:
Where Can Jamaican Nationals Travel Without A Visa?
Regards,
DC
References:


"Passport, Immigration and Citizenship Agency (PICA)", https://www.pica.gov.jm/

"RENEWING A JAMAICAN ADULT PASSPORT", https://www.pica.gov.jm/passport/renew

"The Immigration Unit of the Passport, Immigration and Citizenship Agency (PICA)", https://www.pica.gov.jm/immigration

"Retrieving passports after being deported", https://jamaica-gleaner.com/gleaner/20100325/news/news2.html

Editor's Note
What about you? Do you have a question?
Send it in here
! With well
over 2000 questions already answered
, chances are we assist :-)