Did Reggae Music Originated In Jamaica?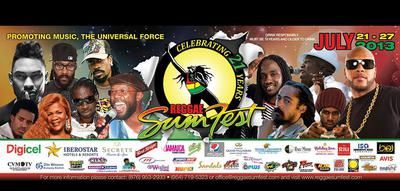 Answered by Isreal, Associate Writer

Did reggae music originate in Jamaica?

Absolutely! And not only is reggae music the heartbeat of Jamaica, Reggae is now one of the most celebrated music worldwide.

In fact, July 1st is now celebrated as International Reggae Day (Jewell, 2016).


The Beginning Of Reggae
The creation of reggae within Jamaica in the 1960's was made possible by several phenomena.
The first and foremost was the introduction of the jukebox and radio on the local scenes so music would have a greater influence in post-colonial social life (Davidson, 2014).
It was from this evolution of entertainment that recording studios such as Sir Coxone's Dodd Drumbeat and Duke Reid's The Trojan, were launched (Cooper, 1999 and Davidson, 2014).
Their rivalry was the fuel for original Jamaican music which came out in two genre: ska and rock steady (Davidson, 2014).
Both ska and rock steady were the forerunners of reggae with rock steady giving the original dance moves to reggae and ska providing the beat of the drums and guitars especially the rhythm guitar sound that would be used as at the end of measures as a form of rejection to conventional euro-culture (Cooper, 1999 and Davidson, 2014). This can be best heard in Bob Marley's 1980 classic Redemption Song.
The Early Pioneers Of Reggae Music
During the formative time of reggae, inner city community youths such as Ken Boothe, Alton Ellis and the legendary Bob Marley started writing and recording their own music for the social scene which expressed their stance on social issues (Cooper, 1999).
As these artistes gained international recognition such as Bob Marley, then reggae became the dominant music in Jamaica in the 1970's (Davidson, 2014).
The first reggae hits were released by Toots and the Maytals both in 1968: The Number and Do the Reggay (Cooper, 1999 and Wikipedia, 2018). It was after the Maytals hit that the genre was named reggae after the previously mentioned song (Wikipedia, 2018).
The other outstanding reggae group at the time was the Wailers which consisted of Bunny Wailer, Peter Tosh and Bob Marley (yes, Bob Marley the Reggae Great).
Reggae not only paved paths for its artistes as in Ken Boothe but was also made known by some such as Jimmy Cliff who acted in the 1972 classic The Harder They Come (Cooper, 1999).
Whence Came The Term 'Reggae'?
There have been speculations of how the term reggae came about. Some claim it is a latin translation of 'to the king' ad regem pronounced ad regge (Jamaicanmusic, 2018). However, the first time the term reggae was popularized was in the song Do the Reggay (Cooper, 1999).
Accordingly, in the times there was a slang for a man or woman who could not dress well called 'streggae'; so one day Toots Hibbert (from the Maytals) said to his friends "let's reggae"-short for streggae.
They found it funny and started singing do the reggay and a beat was added (SunsetThePalmsJamaica, 2018 and Wikipedia, 2018). This was the birth of reggae worldwide. Right here in Jamaica a whole genre was named after a friendly joke.
Reggae And Rastafarianism
Reggae not only started in Jamaica but it also gained affiliation to a religion that started right here in Jamaica, Rastafarianism.
The pairing of Rastafarianism with reggae only grew the music even more as Rastafarians became patrons and artistes of reggae.
The Rastafarian influence meant that songs did not call for justice from God but Jah (SunsetthePalmsJamaica, 2018). The British Broadcasting Corporation (2009) reported that entrenched deep into most of Bob Marley's lyrics were Rastafarian teachings.
For example Bob Marley's Exodus music in 1977 stated "we know where we're going, we know where we're from. We're leaving Babylon going to our father's land".
So the BBC had dubbed reggae as Rastafarian music.
This means a double for Jamaica as both music and the religion were birth under similar circumstances such as social dissatisfaction and therefore 'have each other'.
Reggae became one of the symbols of the 20th century Rastafarian: dreadlocks, ganja and reggae music. Where we're going, we know where we're from.
Coincidentally, Haile Selassie visited Jamaica in 1966 when reggae was being honed (Irish Times, 2018). The success of Bob Marley and others such as Max Romeo and Gregory Isaacs was instrumental in this linkage of reggae and Rastafarianism.
Bob Marley especially was mentored by Mortimer Planno the elder who coordinated Selassie's visit in 1966 (Irish Times, 2015). Rastafarianism bred a culture that gave reggae dominance worldwide. This culture spread to North America and Europe with variations but the starting point was the Caribbean, Jamaica.
See also:
Reggae Music - The Heartbeat Of Jamaica
References


British Broadcasting Corporation. 2009. Rastafarian Music taken from http://www.bbc.co.uk/religion/religions/rastafari/customs/music.shtml

Cooper, Caroly. 2009. Reggae in Britannica Online taken from https://www.britannica.com/art/reggae

Davidson, Marcia. 2014. Routes of Reggae-A Brief History on Jamaican Music taken from www. Jamaicans.com

DJ Influence. 2018. Positve Reggae Vybz taken fromhttps://www.youtube.com/watch?v=WkfvL3Nz0SI

Irish Times. 2015. In Jah We Trust: how Reggae Spread the Rasta Word taken from https://www.irishtimes.com/culture/music/in-jah-we-trust-how-reggae-spread-the-rasta-word-1.2313514

Jamaicanmusic. 2018. Origins of Reggae taken from https://jamaicansmusic.com/learn/origins/reggae

Jewell, Catherine. 2016. Reggae jamaica's Gift to the World from WIPO Magazine taken from http://www.wipo.int/wipo_magazine/en/2016/03/article_0004.html

SunsethePalmsJamaica. 2018. Reggae taken from http://www.thepalmsjamaica.com/brief-history-reggae-music-first-jamaica-world/

Wikipedia. 2018. Reggae taken from www.en.wikipedia.org/wiki/Reggae