Do Jamaicans Celebrate Thanksgiving?
by Deon Clarke | Associate Writer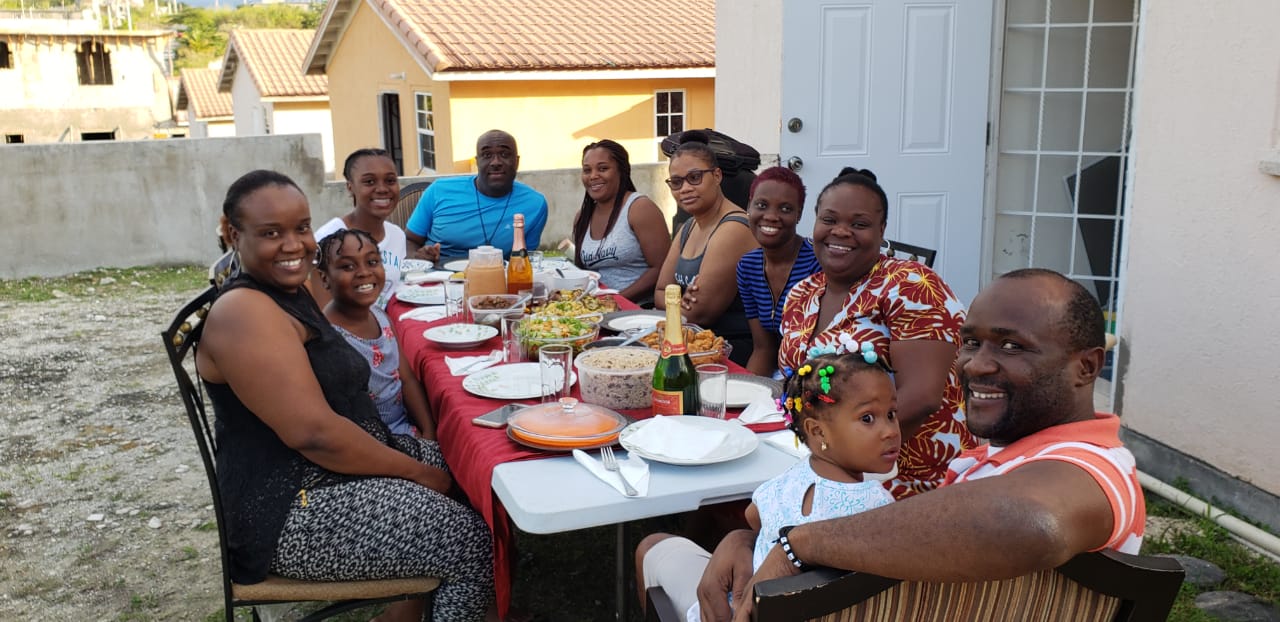 Photo: Wellesly's Special Family Dinner
Do Jamaicans celebrate Thanksgiving? The simple answer, "not officially" here in Jamaica but technically, of course, we do. Jamaicans in the Diaspora (particularly the United States and Canada) do celebrate Thanksgiving. So whether they are here or abroad, Thanksgiving celebrations are usually on and we sure know how to kick it up a notch.
You see, Jamaicans are naturally very festive people. Where there is good food, good music, friends and family rest assured Jamaicans will be there! What's not to celebrate? While Jamaica does not have an official Thanksgiving Day, we don't mind celebrating with our American family and friends here. Thanksgiving Day in the United States is recognized on the last Thursday in November and is characterized by a Thanksgiving Dinner, with stuffed turkey being the main meat but also lots of other amazing food dishes such as mashed potatoes, and oven-baked macaroni and cheese.
Although we love to celebrate Thanksgiving with you, the celebration here in Jamaica is a bit different from what you would normally see in the United States. Let's take a look at the differences:
Differences Between Thanksgiving Holiday Celebrations Between Jamaica And The U.S.


Holiday Time - As I mentioned before, we do not officially celebrate Thanksgiving in Jamaica but the day is highly commemorated especially by those in the BPO sector. As you may already know, the majority of the BPO sector here in Jamaica are American-based so the holidays and culture are naturally filtered down to the employees, from Halloween to Independence celebrations, so Thanksgiving is no exception. As a matter of fact, it is a holiday that many employees in this sector look forward to.

For the workers who are fortunate to get the day off from work, holiday time! Lol, we know Jamaicans love holidays. The day is usually spent going on those long awaited department excursions or fun-filled trips to different parts of the island or just wherever they can get a chance to go. From my experience in the sector, I was one of the fortunate ones, as my department always looked forward to planning these yearly trips to just catch and break and have some fun time together before returning to the hustle and bustle of the office.

For others in the sector (the majority) who have to spend the day at work, they are certainly not neglected by their employers - from special staff lunches to snacks, treats and drinks, the day is well-commemorated.


Not Much Excitement - Outside of the BPO sector and a few persons on the island especially hotel guests, who would be celebrating the day, there really isn't much excitement going on here in Jamaica when compared to the celebrations in the U.S. No traffic jam, no cooking up a storm! It's almost just another regular day for most Jamaicans.


Unreachable Friends and Relatives - While in the United States, friends and family may be unreachable as they are busy cooking up a storm - making sure the turkey and other delectable dishes are done to perfection. Friends in Jamaica have to ensure that any conversation to be had happens before the preparation starts or they will just have to wait until the following day or even the following week due to the Black Friday Sale that starts on the Friday (the following day and usually the entire weekend).


The Turkey - You may not know this, but unlike our friends and family in the United States, most Jamaicans are not big on Turkey. We're just not very fond of it although we will eat turkey neck, drumsticks and turkey sandwiches from the cured meat at times. Yes, we know that turkey and Thanksgiving go hand in hand but we would rather have stuffed chicken. We don't mind eating it though so don't be afraid to invite your Jamaican friends to join in the festivities.


Great Time To Travel - Surprisingly, many Jamaicans see the Thanksgiving holiday period as a great time to visit with their friends and family in the United States as well as to take advantage of the Black Friday sale offerings. You know Jamaicans love a great deal on their favourite products!


The Hotels/Resorts - If you are a guest here in Jamaica during the Thanksgiving holiday, you won't be left out of the celebrations as most of the hotels or resorts take pride in providing Thanksgiving menu items for your comfort.


Thanksgiving Get-Togethers - Yes, there will still be a little get together going on here in Jamaica among a few, unlike the massive celebration in the US. If you are inviting Jamaicans over for thanksgiving dinner, bear in mind that Jamaicans love a variety of meats so you can go low on the turkey and introduce other meats such as Ham, roast beef, curried goat, jerk pork, chicken (barbeque, jerk, fried, curried, brown-stewed). Fish (fried, escoveitch, steamed, or brown stewed) is always welcomed, especially for those who follow a healthier diet and stay away from red meat and poultry. For a holiday feast, we like to have at least three or four types of meat on our plate.

Also, try to keep the conversation light and jovial. If things get a little loud don't worry, we are not upset we are just very passionate about certain topics, especially politics and sports.

So, while we celebrate Thanksgiving with you, we also have our way of celebrating or commemorating the day. I believe for Jamaicans, our Thanksgiving celebration is really rolled into Christmas Dinner (without the turkey, lol), so you can just imagine the fun and the food! This is a really great time for friends and family to come together, have fun and more than anything – be thankful! Though we are not there physically with you, we always look forward to seeing those social media pics detailing the events of the day. So, wherever in the world you are, Happy Thanksgiving from Jamaica!
I also recommend you read,
Black Friday Sale In Jamaica - What To Expect
.
Regards,
DC
References:

A Jamaican Thanksgiving with The Best Dressed Chicken, Jamaica Observer, https://www.jamaicaobserver.com/thursday-life-food/a-jamaican-thanksgiving-with-the-best-dressed-chicken_207850

10 Things to Know When You Invite a Jamaican to Thanksgiving, Jamaicans.com, https://jamaicans.com/10-things-to-ko-thanksgiving/

A Jamaican Thanksgiving | Food, Jamaica Gleaner, https://jamaica-gleaner.com/article/food/20141127/jamaican-thanksgiving

Editor's Note
We welcome you to
share your comments
with us.