Do you know much about Soursop leaves that come from Jamaica?
Hi Family,
This is a rather unusual post, but I decided to share it with you and all my readers, so you, and perhaps someone you know, will benefit.
Long story short. I received the question above from Terry, one of the most ardent followers on this website.
She has a family member who is currently battling cancer and needed some information on sour sop leaves, which is considered one of the most potent treatments for cancer right now.
Below is the entire email string. Please read her question and my full response. Of course, I welcome
your comments.
Terri's Email Question
On Thu, 23 Aug 2018 at 08:11, Terri H wrote:
Wellesley
What I want to know about Soursop leaves is what's the best way to make the tea leaves? What to add to the tea? I ordered some from Jamaica and wanted for it to come in.
My husband ordered the Juice through Jamaica on Amazon. He now has cancer and some of the cancer patients were telling him about it here in Houston.
That they had ordered some and it has helped some of them? They told us to try the Soursop tea leaves too so I ordered some for both of us.
I have had rheumatoid arthritis for many years and I believe this may help me too.
We can't get the fruit to hear in Houston the Philippine Markets told us it's a seasonal item.
And that's the only time they can get the fruit itself.
I had read some information on your Website about it before and wanted to learn more.
So Wellesley that's why I emailed you for some advice on it. We want to see if this plant helps.
Any advice you can give us would be appreciated your help.
Thanks, Terri
My Email Response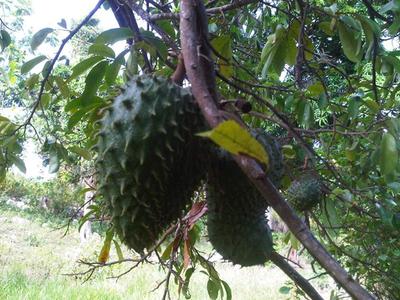 From:Wellesley Gayle
Date: 23 August at 12:23
To: Terry H

Hi Terri,
Thanks for reaching out and clarifying your request my friend. I'm actually glad you did.
Yes, soursop in itself, is an amazing fruit, and the more I read about it, the more I learn and appreciate it.
New! Here's my latest video on the amazing soursop fruit!
And the leaves are exceptionally powerful.
It is said that sour sop is potent in retarding cancer cells, as its active ingredient that is 10,000 times more effective than chemotherapy in fighting cancer cells.
And this is all types of cancers, lung cancer, breast cancer, prostate cancer, etc.
For Treatment
For treatment, it is recommended that you boil 10 soursop leaves in about 3 cups of water until is reduced to about 1/3 or 1 cup. Let him have that every morning for 3-4 weeks.
Other Medicinal Benefits Of SourSop Leaves
It is said that soursop leaves are now one of the most effective cures to date against cancer, and yes, we have grown abundant in Jamaica.
I now have two trees in my backyard here in Montego Bay, but back in Westmoreland where I am from, we have an abundant, even growing wild. Jamaica is truly god's gift to us.


But soursop leaves is not only effective against cancer, it is potent in the treatment of uric acid, back pain, eczema, rheumatism, and diabetes.


It also boosts the immune system and helps to prevent infection by inhibiting the growth of bacteria, parasites, and tumor development.


Its healing properties make it capable of being used as an anti-seizure medication.


It is also capable of reducing fever and lowering high blood pressure. It is useful in treating inflammation and swollen feet, aids in digestion, and improve appetite.


I've also read that it is powerful is the treatment of head lice (in hair).


And finally, note that regular consumption of Soursop leaves improves stamina and facilitates quick recovery from illnesses and diseases so you can join him and protect yourself as well my friend.

New! I now have freshly, hand-picked, air-dried Jamaican soursop leaves available in my Etsy e-store. You can
find it here
.
Here are two great information resources on youtube that will help you my friend.


Benefits of Soursop Leaf Tea, by Dr. Paul Haider, https://www.youtube.com/watch?v=l41mMy4QDb0


15 Health Benefits Of Soursop Leaves, Natural Remedies - Healthy News, https://www.youtube.com/watch?v=Q7JD7H6bwp4

Be sure to click on the links and watch them to learn even more. I hope this helps my friend.
By the way, did you see my YouTube video on Soursop, the fruit? I was in the country and took the opportunity to share the fruit with my readers. If you miss it here it is.
https://www.youtube.com/watch?v=q2sudgzyja4
.
Good luck and I wish you and your husband God's richest blessings.
See also:
How To Make Soursop Juice
.
Regards,
Wellesley M. Gayle
Founder & CEO, www.My-Island-Jamaica.com
*Email removed for Terri's privacy.
P.S. I welcome my
readers' comments here
.
P.P.S. Can't get the leaves directly from Jamaica? You may consider purchasing
online via Amazon
.
P.P.P.S. Remember to
click here
to get even more answers to frequently asked questions about Jamaica.
References:


11 Impressive Health Benefits of Soursop By Malia Frey, https://www.verywellfit.com/soursop-tea-benefits-and-side-effects-4163737, Accessed on August 23 2018.

Can Soursop Tea Prevent Cancer or Help With Weight Loss? https://www.verywellfit.com/soursop-tea-benefits-and-side-effects-4163737, accessed, August 23, 2018



Soursop: The Vitamin C Superfruit that May Help Fight Cancer, https://draxe.com/soursop/, accessed August 23 2018.

https://www.stylecraze.com/articles/benefits-of-soursop-leaves-for-skin-hair-and-health/

Top 10 Surprising Benefits Of Soursop Leaves For Skin, Hair And Health, https://www.stylecraze.com/articles/benefits-of-soursop-leaves-for-skin-hair-and-health/, accessed, August 23, 2018