Getting National ID In Jamaica | How Long Is The Waiting Period?
by Brittany
(Kingston)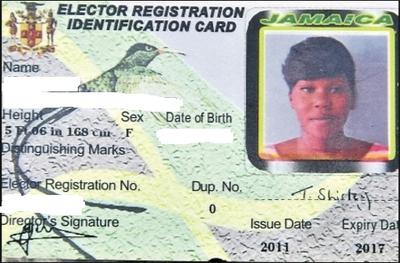 Sample Jamaica National ID
Can they assign you an id number before you get the national ID card, Or do you have to wait the 3 months before getting an id number? I just turned 18 by the way.
RESPONSE: by Deon Clarke
Hi Brittany. Thank you for stopping by, and thanks too for your question - good question.
First of all, I must say congratulations on turning 18 and welcome to adulthood :-)
I must also commend you for recognizing the importance of getting your national id as this is a very important step in your adult journey and will set the premise for how you progress in terms of employment opportunities, financial and business transactions, and of course, the opportunity to vote in our local and general elections
To answer the first part of your question, the simple answer is No. This was confirmed by an official of the electoral office in Montego Bay.
In actuality, you would have to wait for at least 3 months to get your id number and card considering that you are a new applicant.
You might also find the answers to the below frequently asked questions quite useful as well.
Who can register for a National ID?
A Jamaican citizen who is 18 years or older and resides in Jamaica

A Jamaican citizen who is also a commonwealth citizen who is 18 years or older and who is residing in Jamaica at the date of registration and have been a resident for at least 12 months before the date of registration, and

A Jamaican citizen who is not incapacitated by law to vote, for example, a person of unsound mind, a convicted person or a person under a suspended sentence.
What is needed for a National ID?
Birth Certificate for proof of age

Completed Registration Record Card (RRC), provided at the office

Fingerprints, and

Residence Verification
Can I get my National ID online?
Unfortunately, there is no online registration for national id in Jamaica. You are required to visit your nearest constituency office for the process to commence.
What is your National Identification Number?
This is really just a unique number that the government assigns to its citizens for identification purposes.
How long does it take for your National Identification number to be ready?
Once the registration process is completed, the Jamaican national id can take up to 3 months to be ready, provided that all information provided has been verified to be correct.
Your name would be added to the voter's list and published either on May 31 or November 30 of that year, depending on when the application was processed. Only after this will the ID card be issued.
I hope this answers your question, Brittany.
By the way, it is also important for you to keep abreast of possible changes where your national identification is concerned. The Jamaican government is in the process of designing the NIDS (National Identification System) which is a more comprehensive means of identification and will ultimately replace the national id system. Be sure to follow up on any updates regarding this new form of identification.
See also:
How To Apply For National ID In Jamaica
References:

https://ecj.com.jm/voters/voter-information/registration-procedures/

https://opm.gov.jm/portfolios/national-identification-system/

https://jamaica-gleaner.com/gleaner/20110404/lead/lead91.html
Editor's Note
Do you have another question, don't hesitate to
send it to us here
! With
well over 2,000 questions answered
, chances are we can help you :-)