Historic Skydive
by Harry Mann
(Adelaide, South Australia)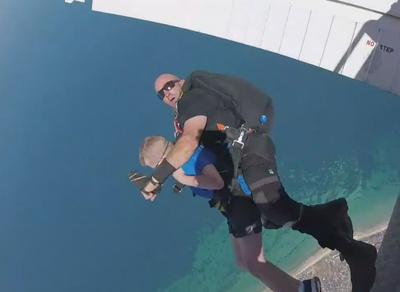 Hi Wellelsey,

Something exceptional happened this holiday!

On 27 December 2018, myself, my son, grandson and great grandson (13 years of age) tandem jumped from 15,000 feet onto Semaphore Beach, Adelaide, South Australia!

A record of four generations together, ages ranging from 13 years to 91 years!

A recording can be seen on youtube. Type in Coastal skydives, Semaphore, Adelaide South Australia.

Would be obliged if you circulated it in Jamaica.

I am hoping that a certain person (Daughter) of Jamaica, or her relations may see this, and respond.


Harry Mann.

Editor's Note
Hi Harry,

That sounds awesome! Congrats on your achievement!
The thrill from skydiving is one thing, but to do it in such a fashion, with son, grandson and great grand son is awesome!

I'm not sure who in Jamaica you are expecting to respond, but I hope they read it and respond as you wished.

Again congrats and good luck!