How big is the island of Jamaica?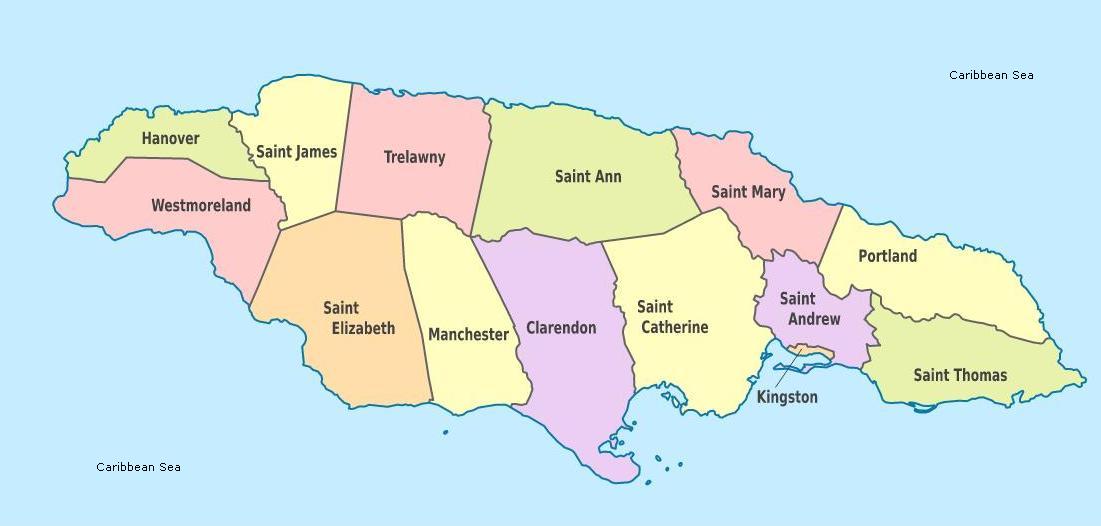 Answered by Devin Saunds-Dunkley, Associate Writer

Jamaica, a very mountainous island measuring 11,424 square kilometers (4,411 square miles), is said to be 235 kilometers (146 miles) long and has varying widths of up to 35 kilometers (22 miles).

The highest peak of the Blue Mountain range stands at 2,256 meters (7,402 feet). Jamaica ranks as the largest English speaking island and the third largest island in the Caribbean, with Cuba and Hispaniola, respectively, being the two largest.

Found in the Greater Antilles, Jamaica is also the largest Commonwealth Caribbean nation with a number of smaller islands running along its coast line called cays.


THE COUNTIES
Jamaica is divided into three counties:


Cornwall,

Middlesex and

Surrey.

Cornwall, the largest county, is found in the western end of the island and is 4,053 sq. km (820 sq. miles) in size. Middlesex is found in the centre of the island and is 5,248 sq. km (2,026 sq. miles). Surrey, the smallest county, measures 2,124 sq. km (820 sq. miles) in size.
The parishes of Cornwall are Westmoreland, St. James, St. Elizabeth, Trelawny and Hanover.
Those found in the county of Middlesex are Manchester, Clarendon, St. Catherine, St. Ann, and St. Mary.
Portland, St. Thomas, Kingston (including Port Royal) and St. Andrew are all found in the county of Surrey.
THE PARISHES (AND SIZES)
The size recorded may varies from book to book, however, each has its own uniqueness and a number of attractions, some of which spread for miles that causes one to really wonder if the measurements are correct.
Parishes in Surrey


Kingston - This is the capital city of Jamaica since 1872 and it is the smallest parish measuring 25 sq. km (10 sq. miles) in size.

St. Thomas – This parish covers 750 sq. km (300 sq. miles)

Portland – This parish accounts for 820 sq. km (328 sq. miles)

St. Andrew – This parish covers an area of 455 sq. km (181 sq. miles)

Parishes in Middlesex


Manchester – The parish measures 850 sq. km (339 sq. miles).

Clarendon – It covers an area of 1,167 sq. km (467 sq. miles).

St. Catherine - This is the largest parish in the island, covering 1,260 sq. km (483 sq. miles).

St. Ann – This parish accounts for an area measuring 1,200 sq. km (481 sq. miles)

St. Mary – This parish measures an area of 634 sq. km (254 sq. miles)

Parishes in Cornwall


Westmoreland – It has an area of 800 sq. km (320 sq. miles)

St. James – This parish has an area of 600 sq. km (240 sq. miles)

St. Elizabeth – It covers an area of 1,185 sq. km (474 sq. miles)

Trelawny – It has an area of 880 sq. km (352 sq. miles)

Hanover – It covers an area of 442 sq. km (177 sq. miles)

References and further reading:
1. http://www.jtbonline.org/tourism-in-jamaica/quick-facts-about-jamaica/
2. drrwww.discoverjamaica.com/gleaner/discover/geography/polgol.htm