How Do I Correct My Name On My Jamaican Birth Certificate?
by Everette
(Newmarket, Ontario, Canada)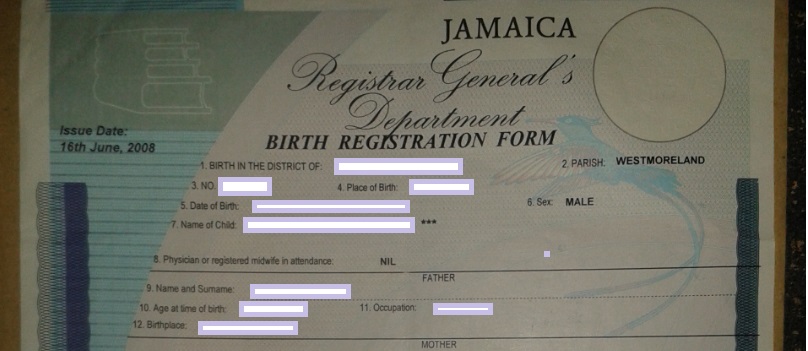 Specimen Of Jamaican Birth Certificate

We get quite a few of these questions related to vital records in Jamaica, but this one was different. It had to do with what we call 'A Correction Of Error'. Everette wanted to find out about how to change a letter in his first name.

Here's his question (below) answered by Deon.



I applied for my passport and the application was sent back to me. They are asking for another birth certificate.

In the 70's, I paid to have an E added to my name as all my documents, school records, school certificates, passport etc, had the E on it.

How do I go about getting the birth certificate with the added E.
Thank you in advance for your help and response.

Everette - with the E between the V and R.
Evrette - on original birth certificate.

RESPONSE: by Deon Clarke, Associate Writer
Hi Everette,
Thank you stopping by our website and for your question. I can only imagine the frustration you have suffered with this issue.
But you might find comfort in knowing that your situation is not very unique and that it can be corrected.
There are a number of Jamaican citizens who have had similar issues and have had to take the necessary steps to get them addressed. As a matter of fact, I have personally come across many persons with the same issue, lol.
So just to confirm, you mentioned that you paid to get the E added to your name in the 1970's, right?
And that it seems that this was not done as you later mentioned that your original birth certificate still has Evrette on it.
You also stated that your previous passport had the E on it. I assume that you are now trying to renew your passport, but a lot has changed since the 70's hence the request for another birth certificate (the one having the E on it).
To have the E added to your name, you would need to do a
Correction Of Error at the Registrar General Department (RGD) office
. Be warned, this can be a tedious process but it will certainly get you the results that you want.
Here's what you will need to get it done:


Download and complete the Correction Of Error application form from the RGD's website. Here's the link to it on the RGD Website.


When completing the form, take note of the important points below.
These are listed on the application form as well as on the RGD's website.




All signatures should be the same as what is on the ID

IDs for all the Declarant's must be provided for processing an application

All errors must be crossed out and initialed by the same signing Notary Public/J.P.

Declarants should be a family member who is at least 10 years older (parents, grandparents, aunt, uncle, sister/brother)

The dates signed by the Notary Public/J.P. must be the same as the date signed by the Declarants

All information should be clearly written

Interview sessions for the signing Declarant are Mondays to Fridays, 8:30a.m. – 2:00 p.m.

All photocopied IDs and supporting documents must be certified by the Notary Public or J.P.

3rd Party applicants must present a letter of authorization. This letter must state the name, address and phone number of the owner of the account (i.e. the child, parent, husband or wife). This letter must also show approval for the 3rd party to conduct the transaction for the customer and it must be certified by a Notary Public/J.P.

All Amendments will be stated at the bottom of the newly printed certificates as the original recording cannot be removed.





You will then submit the completed application along with all other the required documents.

I hope you found helpful Everette.
By the way, may I also suggest that your read our article on
how to request vital records in Jamaica
for even more insight?
Be sure to
let us know
if you encounter any additional challenges or require any further information.
Regards,
DC
P.S. See also:
How To Find Out If Someone Is Married in Jamaica
.
Editor's Note
Do YOU have a question as well? Please
Send it to us here
! With
over 2,000 questions answered
, chances are we can help you :-)

References:



https://rgd.gov.jm/index.php/documents-and-forms/record-update-forms

http://www.jamaicaobserver.com/sunday-finance/-dezrine-is-not-the-same-as-dezrene-_151048?profile=1056

https://rgd.gov.jm/images/PDF_FILE/RGD_Updated_Form/CE_Checklist_for_Correction_of_Error_(BIRTH).pdf