How Long Of A Flight To Jamaica?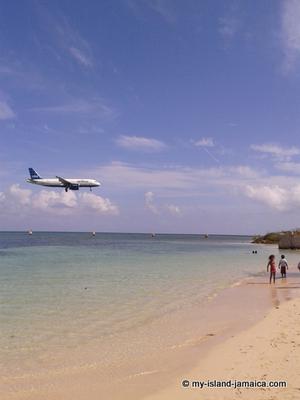 Answered by Tracie Shortridge, Associate Writer || June 2018
Jamaica is located in the West Indies, which is an archipelago of islands between southeast United States and northern South America.
The island is in the Northern and Western Hemispheres, located at latitude 17 degrees North (approximately), and between longitude 77 and 79 degrees West. It is surrounded by the Caribbean Sea.
We form a part of the Greater Antilles, which also include Cuba, Puerto Rico and Hispaniola (Dominican Republic and Haiti).
These are the largest islands in the archipelago, found in the North West Caribbean.
But since we are nestled so comfortably deep in the clutches of beautiful clear skies and miles and miles of soft white sand and warm waters of the Caribbean Sea, how do you get here?
In order to get you here, I'll first need to know where you are living or located. Do you get where I am going with this?
Basically, the length of a flight to Jamaica is dependent on two (2) major factors:-


Where you are i.e. Are you in the Caribbean or outside of the Caribbean?

The flight path you booked i.e. Is it a straight flight or a connecting flight?

These two (2) factors contribute greatly to the duration of time you will spend in the airport and in the air getting to Jamaica.
Remember as well that we have two (2) major airports in Jamaica, the Donald Sangster International airport and the Norman Manley International Airport.
Why am I telling you this at this point? Depending on your final destination, there may be some road time tacked onto your travel time as well. Fun… fun… fun…
Now let us take a closer look at some specific locations across the world (alphabetized) and the average duration of the flight based on a non-stop flight to Jamaica:


But first, two US states:

New York, United States – 3 hours and 55 minutes

Florida, United States – 1 hour and 42 minutes

Then...

Australia – 21 hours and 20 minutes

The Bahamas – 1 hour and 21 minutes

Brazil – 5 hours and 27 minutes

China – 18 hours and 2 minutes

Egypt – 10 hours

France – 10 hours and 9 minutes

Great Britain – 9 hours and 55 minutes

Haiti – 1 hour and 5 minutes

India – 19 hours and 5 minutes

Italy – 11 hours and 17 minutes

Japan – 16 hours and 34 minutes

Kenya – 18 hours and 48 minutes

Mexico – 3 hours and 20 minutes

Netherlands – 10 hours and 20 minutes

Puerto Rico – 1 hour and 57 minutes

South Africa – 15 hours and 30 minutes

South Korea – 30 hours and 15 minutes

Spain – 10 hours

Switzerland – 11 hours and 3 minutes

Venezuela – 2 hours and 36 minutes

Yemen – 22 hours

So look at your location (or the one nearest you), but be sure to research multiple airlines and travel agents before booking your flight to Jamaica.
This way you stand of chance of getting some of the best deals on flights to Jamaica. So depending on where you are arriving from, it may very well take some time.
One thing is for sure though, when you get here, it will be well worth it!!
See you soon!!!!
-Tracie
See also:
Citation:


www.prokerala.com

www.travelmath.com

www.real-jamaica-vacations.com