How to call a Cell Phone in Jamaica?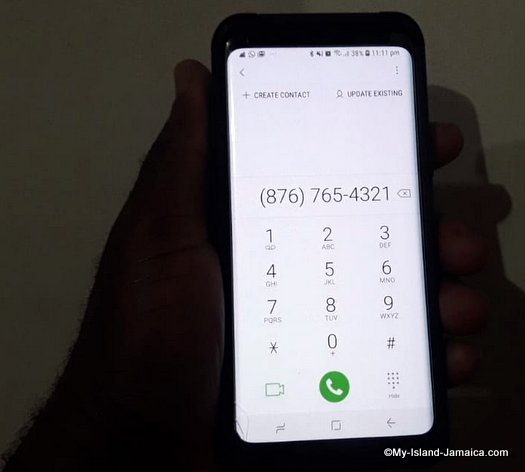 How to call a Cell Phone in Jamaica|| Answered by Kadian Clarke

I get it. You have friends and family in Jamaica that you want to keep in touch, with but don't know the first step towards calling their cell phone, right?

Do not fret! Here's a quick guide.
First up though, how will you be calling?


Calling with a Cell Phone or Landline
If you are calling from a cell phone or landline, simply dial 1 first if needed, depending on your carrier. Then, enter the Jamaican area codes 876 or 658 followed by the seven digits cell phone number.
This is similar to you contacting any other US number outside of your area code.
Note though that when calling from a landline, you must ensure that you dial out before entering the phone number. Dial the digit that opens your line to an international call. For example, 9 or #.
Internet Media
In today's era, we also have the luxury of several other communication apps through the internet.
And it is somewhat thrilling to know that we can simply pick and choose what suits us best.
Skype, Facebook, WhatsApp or Citrustel, are just a few of the most popular ones. The choice is totally up to you.
So how can you call a cell phone in Jamaica from these, as an example?
You simply need an internet connection!
And then follow these instructions (below)...
Calling from Skype
The first thing you'll need to do is to log on from your preferred device to access your account.
After you sign in, decide whether you want credits or subscriptions.
You will need to purchase credit if you plan to call once or on rare occasions.
On the other hand, if you plan on calling regularly, you can sign up for monthly subscriptions - if it is cheaper than purchasing credits.
But, if the person you want to call have a Skype account also, it would be wiser to call or video chat from your device as this option is completely free!
What about Facebook calling?
If you have a facebook account, you will also need to first log in, just as you would your skype account.
The only caveat is that you will need to download the Facebook messenger app to access the calling option.
Once you are logged on, go directly on messenger and search for the name of the person you want to call.
Then, just tap on the name to open that page. Afterwards, you will see the telephone icon to click on and place your call.
There is also a video calling feature - and all are completely free.
Calling from Whatsapp
As a frequent and ardent WhatsApp user, O cam vouch for this option. I love it! It is free and you can make as many calls as you like.
To use WhatsApp call, you'll need to download WhatsApp messenger on your android or IOS phone or tablet.
After you do, all your contacts will be copied or linked into the app.
Simply then tap on the name of the person you wish to contact and place your call.
It is that easy! And you can also make video calls which are also free and convenient. I even learned that they have group calls and videos now!
Just one point of note with WhatsApp, calls would drop at times, but recently I have had some smooth uninterrupted ones all the way through. The pros greatly outweighs the cons I believe.
Citrustel
This is another VOIP technology that connects phone calls from a web browser to landline or mobile phones in Jamaica at lower calling rates than the usual.
You need not download an app to use Citrustel either. Only enter the phone number on the dial pad and click the call button and you will be good to go!
Now you have options right :-)
Great!
I welcome your feedback in the
comments section
below.
Talk again soon!

References:

How to Call Jamaica from The United States (n.d). Retrieved from WikiHow
https://www.wikihow.com/Call-Jamaica-from-the-United-States

Free online calls to Jamaica (n.d) Retrieved from Citrustel
https://www.citrustel.com/Jamaica