How to Correct the Spelling of a Name(and other Common Errors) on Jamaica's National ID Card.
by Lisa
(London)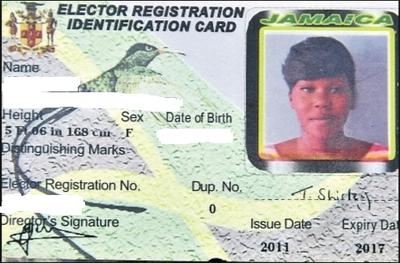 Sample Jamaica National ID
Good Morning. My partner has a misspelling on his ID card that we only noticed when filling out application form for passport. Where do we go to get this changed and how long does it take please? He's in Jamaica, he is a Jamaican citizen. I'm in London.
RESPONSE: by Deon Clarke
REVIEWED: by Sheree-Anita Shearer
Hi Lisa,
I will be more than happy to provide you with this information.
You did not mention the spelling of your partner's name on his birth certificate. It is of critical importance that the name on the birth certificate corresponds with the name on all other documents and forms of identification such as National ID and passport. This will spare you a whole lot of headache especially where matters of immigration are concerned. So before you move to make any corrections, check to ensure that the correct spelling is on the birth certificate.
If the name on all documents and identification are the same except for the birth certificate, it might be easier to just do a Deed Poll at the Registrar General Department (RGD) instead and have the name on the birth certificate updated.
That being said, once you have verified this and you only wish to correct the name on the National ID then you would proceed with the following steps:
Where to Go and What to Do?
Based on the information that I received from the EOJ office, it is important to note that if the name spelling is considered to be
minor
, where the pronunciation of the name is not affected, then the instructions below would apply:


To correct any misspelling on your partner's ID card, he would have to visit the electoral constituency office (usually the one where the ID card was issued).

Take along both the original and a copy of the birth certificate

Wear dark coloured shirt instead of white as the ID photo will be re-taken

Be prepared to have your fingerprint taken as well.

However, if the change to the name is considered
major
, where the pronunciation of the name is altered, then your partner would be required to collect a
Declaration Form
. This form should be completed by someone older than him, such as a relative, neighbour, or friend. A spouse however,
cannot
complete this form on his behalf. The form must also be stamped and signed by a Justice of the Peace or a Minister of Religion.
This declaration form would also need to be presented along with the items listed above. When he goes to the office, they will determine if the declaration form would be required. Once all the necessaries are done, then he would wait for the new ID card.
How Long Does It Take for The New ID Card to Be Ready?
Regarding the length of time that it takes, you will find that it depends on the nature of the name change.


For the minor changes, the new card would be ready in about two (2) months.

For major changes, it could take up to six (6) months.

The ID is generally accurate, however, as with most things errors do occur. The procedure outlined above applies to most of these errors for example Date of Birth and Gender. Thank you again Lisa for your questions. I do hope that you found this information helpful and that you and your partner can have this issue resolved quickly.
For more information, you can contact the Electoral Office of Jamaica at
(876)-922-0425-9 or visit their website at: https://ecj.com.jm/.
Good Luck!
I also recommend you read
The TRN Number What Is It? Why The Need? And How Do I Apply?
.
Regards,
DC
References:



Electoral Commission of Jamaica, https://ecj.com.jm/

Editor's Note
And You? Do you have a question as well?
submit it here
! With well
over 2000 questions already answered
, chances are we assist :-)