How to work in Jamaica as a US citizen?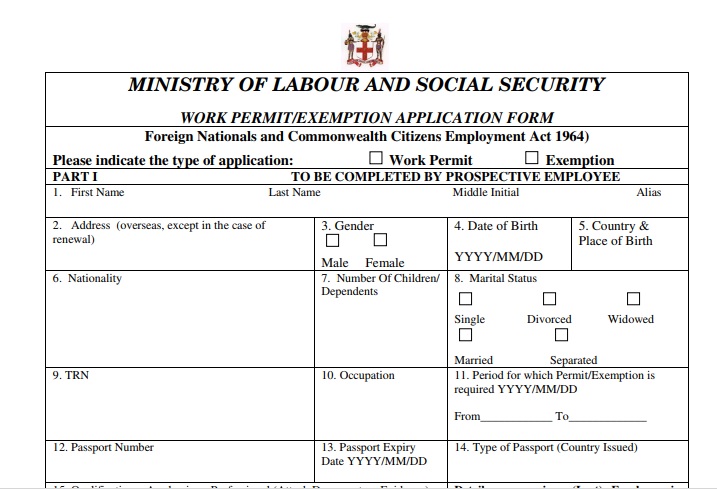 Answered by Aneisha Dobson, Associate Writer

As the jewel of the Caribbean, not only does Jamaica attract millions of vacationers. Now more than ever, many visitors are looking to reside here, at the minimum to work here - if not applying for dual citizenship.

In fact, Douglas McIntosh, a writer for the Jamaica Information Service, in his article entitled "More foreigners seeking Jamaican Citizenship", stated that in the last 10 years more than 10,000 foreigners have acquired their Jamaican citizenship which allows them to live, work and hold the title of being a Jamaican.

So if you are a US citizen thinking of working here in Jamaica, you are just one of the many counted among the many individuals who are interested in residing in this beautiful island.

But since the question is specific to the desire to work in Jamaica, an application for citizenship won't be needed at this point.

What is need is a work permit.


Acquiring a work permit in Jamaica
First things first – what is a work permit?
A work permit is a legal document, which bears the emigrant's photograph and bears a unique number, giving the expatriate authorization to work in Jamaica.
Additionally, the work permit will stipulate the specific period in which the emigrant is allowed to work.
Exempted Persons
Here in Jamaica, the agency responsible for work permit applications is the Work Permit Section of the Ministry of Labour and Social Security.
It should be noted that certain categories of workers are exempted from requiring a work permit.
Persons in the exempted category include:


Those employed by the Government; teachers (in most cases)

Persons employed by the University of the West Indies

Persons employed in the fields of art, sports, education, entertainment and culture and

Persons employed to local or international charitable organization.

When seeking an exemption, a letter stating the applicant's full name, nationality, period for exemption and duties to be performed, must be submitted to the Permanent Secretary in the Ministry of Labour and Social Security.
How To Apply For A Work Permit In Jamaica
When you are applying to the Ministry for a work permit, you are required to make the application through:


Your prospective employer

Jamaica Promotion Corporation - this is for Jampro Investors

Contractor, or

Legal representation

Application Process
Work Permit can be printed online from the Ministry of Labour and Social Security website at
www.mlss.gov.jm
.
Here are some useful tips when filling out your application form:


The application for should be written in ink and in blocked letters.

Application forms must be answer truthfully.

On the application forms Part I should be completed by the applicant; Part II should be completed by prospective employer and Part 3 is strictly for Official use.

If your applying for work permit on the basis of being self-employed, you will complete Part I and II.

If there is a question on the application that is not relevant to the applicant, then the question should be marked with the letters N/A.

Applications that have not been properly filled out will not be processed

There is a non-refundable fee for processing the application.

When approved, the prospective employer will be notified and receive a Notice of Approval.

Before the work permit can be issued the prospective employer must pay the Work Permit Fee.

Payment vouchers are available at The Work Permit Section of the Ministry of Labour and Social Security located in Kingston and other Parish offices across the island.

Payments are made to any branch of the National Commercial Bank

Documents Needed
Upon submitting your application, the applicant is required to submit additional supporting documents.


A cover letter outlining the nature and duration of the job. If you're an investor, details of investment proposals must be documented and submitted, and...


Proof of Qualification:
1. Certified copies of proof of academics, professional qualifications or letter of accreditation
2. Letter of recommendation or written reference from your previous employer or evidence of business activity of the applicant
It the documents mentioned above are not in English, then a certified English translation should
be supplied.

Additionally, documents must be certified by a Justice of the Peace or Notary Public. However, if it is a case where you have not certified the copies of your documents, authorized members of staff of the Ministry of Labour and Social Security may certify them as long as the original documents are presented.
Other important documents to be submitted are:


Resume

Police record – This must be issued by the Security Authority in the country of the domicile of the applicant

Proof of Business Registration (For investors):

Certified copy of Business Registration Certificate for incorporated companies

Certified copy of Certificate of Incorporation and Memorandum of Association for registered companies

Company's Tax Registration Number (TRN) (For investors)

Certified copies of the following passport pages




Proof of identity

Passport number

Date of issue and expiry

Landing status in Jamaica

Relevant visas in applicable






Lastly, Photographs
Two photographs are required for work permit applications and one photograph for work permit exemption.




Photographs should be produced professional and taken not more than six months before application.

Photos should be taken in coloured with a plain background.

Frontal view of the applicant's head, neck, top of shoulders and ears should be visible

Except for religious reasons, head coverings are not accepted in the photo

Photographs must be certified by a Justice of the Peace or Notary Public




There you go! If you need additional information, please reach out directly to the Ministry of Labour and Social Security at...
Ministry of Labour and Social Security
1F North Street, Kingston
Jamaica, West Indies
Tel: (876) 922-9500-9
Fax: (876) 922-6902/ (876) 922-0996
Website: www.mlss.gov.jm
You may also be interested in reading about
the requirements to stay or retire in Jamaica
.
Good luck!
See also:
Do I need A Work Permit To Work In Jamaica?
Regards,
AD.

Sources




Jamaica Information Service. (2007, November 4). Jamaicas work permit system: The Application Process and Who's Exempt. Retrieved from Jamaica Information Service: https://jis.gov.jm/jamaicas-work-permit-system-the-application-process-and-whos-exempt/


Ministry of Labour and Social Security. (2018). Work Permit. Retrieved from Ministry of Labour and Social Security: https://mlss.gov.jm/departments/work-permit-2/