Interview with Rob Graves (CEO of Negril.com)
by Wellesley
(Jamaica)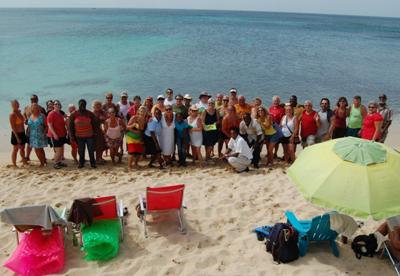 Rob is an wonderful person with a great personality! When I contacting him and explained our purpose, he did not hesitate. In fact he was elated, and I truly admired that.

He came here as a curious vacationer, but ending up spending well over two decades of his life here, helping in his own little way, to showcase Negril and Jamaica to the world.

No need for me to mention that he is passionate about Negril and Jamaica. By the way, you'll learn that he has earned a lot of 'firsts' for Negril and Jamaica as well.

It is my greatest pleasure conducting and preparing Rob's interview to you.

Here now is Rob, I hope you will enjoy his interview as much as I did.


---
1. Hi Rob, thanks so much for being with us today. Please take a moment to tell us a bit about yourself, including where you grew up, family members, and indeed, anything else you'd like our readers to know about you.
I am from Columbus, Ohio - born in 1961 and grew up on the northend of town with a tremendous number of siblings. It was a stereotypical North American upbringing. The tribulations of the 60's and 70's did impact the way I view the world. We can strive to live in a better world.
2. You defined Negril.com as 'a labour of love', tell us a little about that.

I have been visiting Negril since 1985 and was in Negril for Hurricane Gilbert (on the beach at the Native Son Villas). Gilbert showed me the strength, resourcefulness and love of the Jamaican people, and I felt an obligation afterwards to use the rewards that I had been given to benefit the people of Jamaica in anyway I could.
After owning a successful computer hardware and software company in Columbus that I started in 1981, I saw that the Internet was going to have a huge impact on the world, specifically in the area of travel. I went through a divorce in 1992 and with the advent of the Internet, this created the perfect opportunity for me to refocus my life's direction and develop my dream of Negril.com.
When I moved to Jamaica, there was no internet yet on the island. I had to call Miami on a cellular modem through what was then TOJ (Telecommunications of Jamaica).
This was a self funded endeavor, since the concept of getting sponsors on the internet in 1994 and 1995 was as foreign as the concept of the internet to the businesses in Negril who had never even seen a computer yet.
In November of 1995, Info Channel became the first Internet provider on the island and I had the
very first commercial account they sold
.
I took my laptop to the businesses all over Negril, giving most of them their first glimpse of the Internet It was what is known as a "hard sell". With no computer suppliers or technicians available on the western end of the island, I had to handle all these services myself, which allowed me to become familiar with most of the owners of the businesses in Negril.
This was a great learning experience for everyone involved.
Beingee's Negril.com was formally created in late 1995, Beingee's LTD. being the company name. From those early days, Negril.com has had many firsts for websites in Jamaica.
In 1997, Negril.com started the first chat room from the island of Jamaica. In December 1997, Negril.com had the very first webcast live from Jamaica from Roots Bamboo on the beach in Negril.
In 1998 Negril.com started the first message board on the island, the Negril Message Board.
These were all part of the dream I had been developing from the early 90's to help promote Jamaica and Negril on the Internet.
3. You mentioned the message board, that message board is now hugely popular! From my count, there were 31 new posts yesterday only (6/30/2010), generating a total of 313 (almost immediate) responses. Clearly people are finding great value in the site?
The Negril Message Board simply sprung from the fact I couldn't handle all the email questions I was getting about Negril and Jamaica, and I needed to have the other viewers of the website help in this aspect. Starting in 1998, we have had an overwhelmingly positive response to the Board, and as you have noticed, it is quite an active and useful resource for visitors to our beautiful island of Jamaica! We have been having a yearly "boardie bash" since 1999.
4. Is there anyone you would say inspired you along the way?
The main inspiration I had to benefit Negril and Jamaica, other than hurricane Gilbert, was Mike Dorman at Vacation International out of Chicago in the late 80s and early 90s. There were advertisements written in Negril brochures that Mike had marketed Negril so well that people thought they were going to the "Island of Negril". That was one of the coolest things I had ever heard!
5. What really irks you though Rob?
Although this has been an absolutely wonderful past 16 years, probably the main thing that irks me are the people who make outrageous claims about their websites. These fly by night websites can often look fancy on the front pages, and many try to take credit or claim for what Negril.com has done. They make unrealistic promises to the businesses in Negril and often charge outlandish fees for these promises. Then, after these sites don't deliver, I am left here to try and repair the damage done, not only to the businesses but also to Negril.com.
While there are many great sites promoting Negril and Jamaica, a few do make some wild claims. But as the saying goes "imitation is the most sincerest form of flattery". This irks me, as well as all the fun I have had dealing with C&W over the years...(grin)
6. We all have some noteworthy event in life, don't we? What would you say is your most memorable experience? And Why?
Probably the single most memorable event regarding Negril.com I had was early on - back in 1996 or 1997 at the MXIII Bob Marley Birthday Bashment. I got a chance to meet Ziggy, Damion and Stephen backstage at the show to feature them on Negril.com's
Negril Today
daily page. It was an incredibly comfortable situation, just hanging and talking about what the show meant to them, and hearing some stories about their Dad.
7. Do you make time for fun too Rob? If so, What do you do?
No, I never ever have any fun at all! (grin) Unless you count all the fun Lisa and I have at the LIVE webcasts on
RealNegril.com
- this is the Live webcasting site I spun off Negril.com back in 2003. We have some great times all over the western end of Jamaica! Give it a click!
8. In your opinion, what makes Jamaica special Rob?
As mentioned above, the strength, resourcefulness and love of the Jamaican people. Lots of place have sun and sand and sea, but you don't usually find Jamaicans there unless you are in Jamaica!
9. What legacy would you like to leave behind?
Negril.com is my legacy for Jamaica. Working with the members of the community, including the Negril Chamber of Commerce will help insure that Negril.com will be serving the people of Negril long after I have left my duties.
10. Thank you so much for your time Rob. Just before you go though, I would like your personal opinion. I've been told by several friends of mine to leave Jamaica and try to make a life in Canada or the UK? What advise would you give me personally, and the several other young Jamaicans who may be considering migrating to a foreign country.
Being an American, I am glad you left out the USA in your question or I would no doubt disappoint a whole lot of Americans! But seriously - while these other countries have an certain allure about them, there are few places on the planet that have the potential for amazing growth that Jamaica does. And simply put, you, as a foreigner in those countries will be facing an uphill battle with the realistic discrimination that does exist in the world. Nothing is as easy as it seems, but being a foreigner in a foreign land does take a special mindset to succeed. If you leave yourself an "easy way out", then you will probably be enticed to take it.
---
Rob was awesome, didn't he, and sincere too! He has certainly made his mark on Jamaica - in his own little way, let's wish him the very best in his personal and business endeavours.
Back To
Personality Interviews
main page.