Jamaica 55 - Main Events & Activities || Celebrating Jamaicans Home And Abroad
by Wellesley Gayle, August 2017


The entire Jamaica is a buzz this weekend as we climax an exciting series of activities for this our biggest national holiday event this year -
Jamaica 55
!
As I write this, events are been held all over Jamaica, celebrating our independence (since 1962) and showcasing and commemorating our amazingly rich cultural heritage.
This year the celebration is aptly themed 'Celebrating Jamaicans at Home and Abroad'.
Activities include church services, parish vigils, flag-raising ceremonies; festival bandwagon — which is a mobile showcase of the best talents from the parishes in the performing arts; public fora, street dances, independence concerts, and stage shows.
Click here
for the full events directory.
And by the way, there is a Independence Village which has been the centre of festivity where elements of Jamaica's culture is highlighted that started from July 29!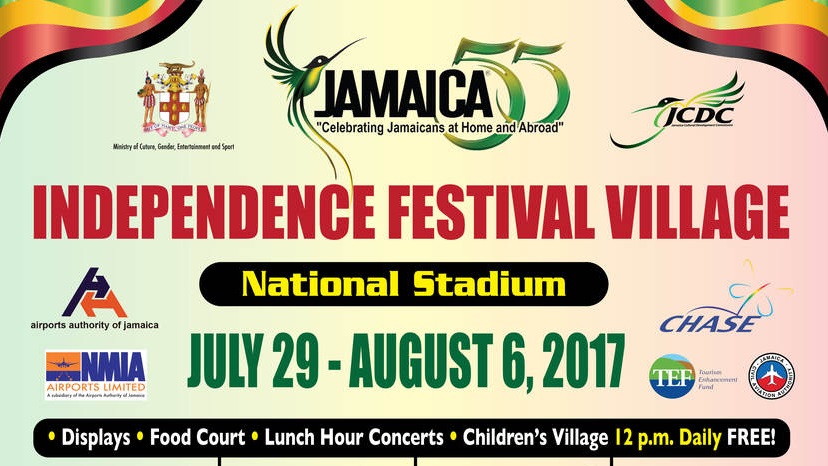 Click Here to view/download the Independence Village activity poster
Events included/ includes August Mawning Market, Miss Jamaica Festival Queen Competition, Mello Go Roun', World Reggae Dance Championship and The Grand Gala!
At the launch of the Jamaica Independence Festival (July 29 to August 7), Minister of Culture, Gender, Entertainment and Sport Olivia Grange said the festivities will include new features such as a Jamaica 55 commemorative album, the Western Jamaica Festival Village in Montego Bay, and Kingston Reggae Night.
All events culminates with the elaborate Grand Gala on August 6th and the explosive fireworks on the Waterfront on August 7!
The Grand Gala features over 2,000 performers. These include Etana, Ernie Smith, Bugle, Vegas, Ding Dong, Admiral Bailey, Kukudoo, Germaine Edwards and the 2017 Jamaica Gospel Song Winner, Shaughna-Lee Steel.
The show will also be enhanced by ecstatic lighting, special effects, pyrotechnics and a special fireworks display, courtesy of the People's Republic of China.
Jamaicans at home and abroad are encouraged to "wear something black, and embellish it with a touch of green, gold and red" throughout the season.
Missed The Mello-Go-Round As Well? Here also is the video (courtesy of JCDC)
Thanks again for sharing #Jamaica55 with us! And yes, I welcome
your comments and feedback here
.
See also:
Popular Festival Songs
,
Jamaica celebrations
&
Jamaican history
.
Sources:
JCDC, JIS,
Jamaica Gleaner
,
Loop Jamaica
&
Jamaica Observer