Jamaica Airport taxi rates and currency exchange
by FredF
(Springfield IL USA )
Fred asked about Jamaica Airport taxi rates and currency exchange. I think I responded too late though. I apologized, but I still wanted to provide him the information for future use perhaps, and also to my other readers who might need it.

A really great question.




I will be arriving at Sangster's International Airport after 8pm Sunday, too late for Relax hotel shuttle service. I assume taxis are available if needed?

And what is the airport taxi rate?

Also, would there be any place there open to convert US to JA$. THANK YOU for all the info on your site.


ANSWER:
by Wellesley
Hey Fred,
Thanks for asking.
First, let me apologize for the late response. I am hopeful that it is still useful for other trips as well as others who might require these services.
Secondly, yes, taxis are always available! And in abundance too!
The rates depends on the destination, but I've included a copy of a rate sheet I ran into at the Holiday Inn resort, published by JUTA.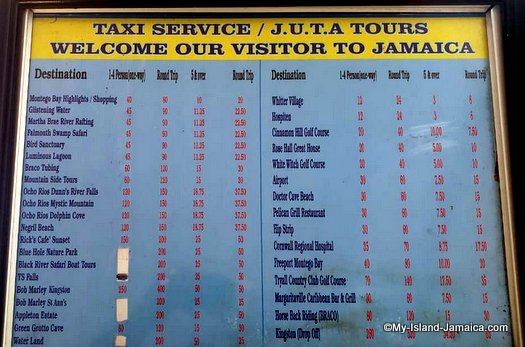 CLICK HERE TO ZOOM
Note that this is not from the airport, but rater the hotel. The distance though is generally in the same vicinity, and so the prices would not be significantly different, if not the same.
JUTA, by the way, is one of the more reputable airport taxi service now and they have many many members.
Note that the flat rates published are usually for 1-4 persons - one way and round trip.
They then list an additional rate (per person) for 5 persons and over, also by one way and round trip.
In your case though, from the Montego Bay airport to Relax resort, the price would be between 15 and 20 USD, for 1-4 persons.
About converting your USD to JMD, the cambios, according to the airport management, are usually open to faciliate the last flight!
Again, thanks for asking!
You may also be interested in my articles on
Should I rent a car in Jamaica?
.
As usual, I welcome
your comments here
.
Regards,
WG
P.S. We've answered HUNDREDS of questions,
click here
and
here
to get even more answers.