Jamaica Creative Workshops 2013 - by Gifts And Events Ltd.
by Gloria Dawkins
(Jamaica)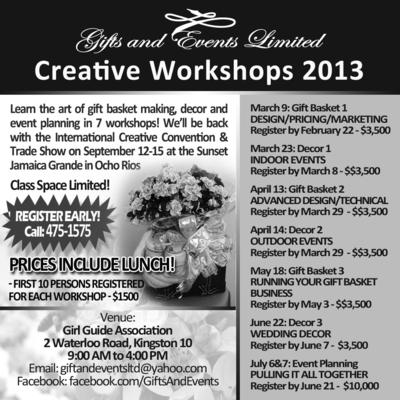 Want to learn to make exquisite Gift Baskets?
Want to learn how to decorate an event?
How about the art of Event Planning?

Know someone who would? Recommend them to
Creative Workshops 2013 ...


Come learn:




Additional skills

To INCREASE YOUR CASH FLOW CONFIDENTLY

To establish your own business or improve on an existing one.

Our Workshops are ideally suited:


for manufacturers and distributors who package their products to save on outsourcing;


for staff of Gifting or Event Planning / Decor companies;


for young and retired persons who could do with a source of income;


for HR personnel to empower staff who may be facing redundancy;


for entrepreneurs who might just be looking for a business idea


and the list goes on....

The Cost?
We have slashed our prices to J$3500 per Gift Basket and Event Decor Workshop!!!!
And that is not where we stop....As a special sweetener the first 10 persons to register for Gift Baskets and Event Decor workshops will pay only $1500.
Event Planning (2 days) has been reduced to J$10,000! (The first 10 persons to register pay only $5000).
Use your weekends creatively and increase your income potential...The possibilities are endless
See our schedule (above pic)
Contact us today:
Gifts and Events
Exquisite Gift Designers / Event Planners and Decorators
Telephone : (876) 475 1575
Email:
giftsandeventsltd@yahoo.com
Facebook:
http://www.facebook.com/GiftsAndEvents
Youtube:
https://www.youtube.com/watch?v=m8r7kWMEvOE