Jamaica - The Island I love so much!
by Veronica Majsiak
(Reston, Virginia USA)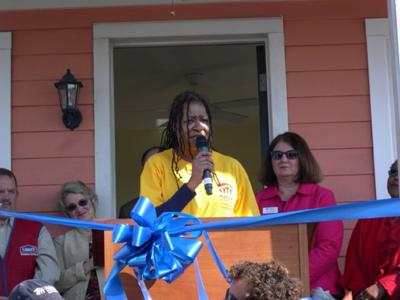 I consider Jamaica my home away from home!


The island and the people of Jamaica have really embraced me into their lives and family.
I have attended church, gone to graduations, funerals, birthday bashes etc, etc. My Jamaican friends even threw me my 29th birthday party attended by
Reggae
artiste and the Jamaican Soccer Team!
I cannot begin to tell you how honoured I felt! And and to top the night off I was given two goats which were cooked and everyone (which was about 200 deep) enjoyed goat soup (manish water) and
curried goat
! I have celebrated many birthdays in Jamaica but that 29th Birthday party will always be special to me!
I have been volunteering for the last 3 years for Habitat for Humanity (check out my albums on facebook) helping to rebuild New Orleans and the Mississippi Gulf Coast. I can't tell you what a feeling it is to use my gift God gave me to be a blessing to others. I own and run an Interior and Exterior Painting business and as a black woman in a male dominate field I wanted to give back and God sent Habitat for Humanity my way, but God wasn't through with me. He saw my love for Jamaica was not in vain as a vision came to me to take my gift to Jamaica! I don't know how or when but the vision God gave me is to go to the hills of Jamaica where I spend most of my time, and build churches and schools and help repair or build homes!
I am in prayer 24/7 waiting for God's guidance as he prepares the way for this vision to manifest.
I feel God working as he is sending the right people daily into my life with the same vision and goals. I may not live to see this vision come to pass but I plan on setting the ball rolling and maybe through my generation after me, it will manifest!
Wow, I did not mean to go on so, but I think you now see I truly love the Lord and have a true passion for the people and the island of Jamaica!
Thank you for
your facebook page
and I will do all I can on this end to tell as many people as I can about your page and the
beauty of Jamaica
!
Much Respect,
Veronica Majsiak