Jamaican Breadfruit
by Denise Salmon
(Jamaica)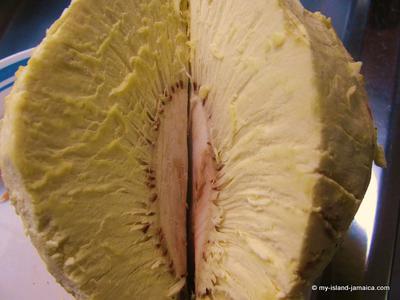 Jamaican Breadfruit - Roasted.
Did you know that breadfruit is considered an almost complete meal?


This is because it provides many of the core nutrition including minerals that are needed by our bodies: proteins, carbohydrates, fiber, calcium, magnesium, phosphorous and potassium!
Also, you might already know that it is popularly served with our national dish,
ackee
and saltfish, after it has been roasted -stove top or 'classic' via the wood fire outside; But did you know that sometimes after the breadfruit has been baked and cooled, it is peeled and cut in two equal halves, the middle is removed, and that cavity is filled with cooked ackee and saltfish or cooked callaloo?
We also use breadfruit used in soups - cooked. It is also served as a part of many other Jamaican meals. This boiled one is also quite tasty!
HISTORY OF JAMAICAN BREADFRUIT
Breadfruit was brought to Jamaica by British Seaman, Captain Bligh, who traveled aboard the HMS Providence in 1793. It was brought from the Pacific region (Tahiti).
It is said tha the first tree was planted in the Bath Botanical Gardens here on the island and after a while more trees were planted in other parishes parishes. It was used primarily as food for the slave population.
Forget about their initial reasons, today, it is one of the most versatile fruits available in the world - and certainly in Jamaica. The trees grow to a height of approximately 80 feet and can produce way over 100 to 150 fruits per crop.
The breadfruit season runs from May and August. Thanks, Captain "Breadfruit Bligh" for bringing us breadfruit!
Other love it roasted, then fried but
I love it roasted - steaming with ripe pear :-)So how do YOU like to have your Jamaican breadfruit?
Share it via the
comments
link below.
See also:
Pictures Of Jamaican Food
&
History Of Jamaica