Jamaican Fruits
by Contributed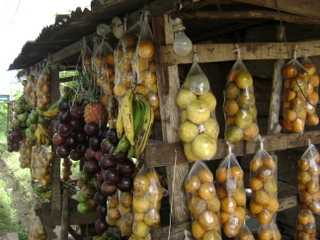 Jamaican Fruit Stand
Jamaica has a wonderful selection of succulent native fruits. Some of these were not originally native to Jamaica but were imported and are now widely grown there.


To American visitors to Jamaica it is one of the great pleasures to try locally grown fruit, many of which are not widely available in the US.
They are often much sweeter than American fruits, which caters to the taste of Jamaicans. Don't worry though, if you plan to have an extended stay in the country you will soon be very happy to adapt to this particular taste.
Many fruits and vegetables are able to grow year-round in Jamaica, although some varieties will be sweeter during the summer months because of the increased sunlight caramelising the natural sugars found in them. This can surprise foreigners who are not used to such sweet-tasting fruit, particularly in winter months.
When people think of Jamaican fruits, they instantly think of the mango, of which there are a wide variety grown year round. Different types of the mango will have differing smells, textures and tastes. The main growing season, from May to August, means the mango will be available at a lower price than the rest of the year, so if this is your delicacy then keep this in mind.
Star fruit, so-called because of the pattern that emerges after you cut one in half, is green when ripe, although some varieties can turn a dark purple. All types are sweet to eat.
Guava fruit can be difficult to describe because different
varieties of it take on quite different appearances and sizes. The outer layer is often roughly textured and has a bitter taste. The inner portion of the fruit is much sweeter, however, with a citrus aroma.
The humble apple is available in varieties not commonly seen elsewhere in the world. These include the star apple and Ethiopia apple (Otaheite apple or Coco Plum).
The custard apple doesn't look much like an apple at all, with a pitted outer skin. It is much sweeter than western varieties and has large seeds throughout its fleshy sweet center.
The banana crop used to be mainly grown to meet export demand but is now widely sold on the streets of Jamaica.
Papaya still remains one of my favourites. It matures green and ripens yellow to red. You remove the inner layer of small seeds and peel off the outer layer to enjoy this enzyme filled fruit.
Various types of oranges are usually plentiful in many regions of Jamaica but over recent years fruit diseases have taken their toll and many farmers now struggle to provide an adequate crop to meet demand.
Although some of the fruits widely available in Jamaica can be purchased in the US and European countries, you may have to go to a specialist shop that imports some varieties because they will not be sold in the big supermarkets or other regular outlets. It helps to locate an area of your city with a large Jamaican population as a good starting point.
See Also:
Foods Eaten In Jamaica