Jamaican Ginger
by Denise Salmon
(Jamaica)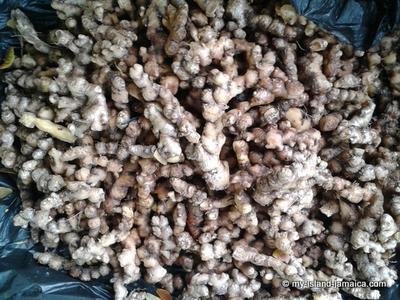 Jamaican Ginger - At The Charles Gordon Market
So you love Jamaican ginger huh?

But what do you know about this remarkable spice?

You might already know that Ginger is native to Asia, but Did you know that the Spanish were the first to plant ginger in Jamaica? That was in St Ann - sometime before 1740.

And did you know that Jamaica, India and Sierra Leone were listed as the three largest ginger producing countries in the world during the 1930's and 1960's? Yup.

In fact there is a place in Christiana, Manchester that was identified as the place that grows the finest ginger in the world!

But the pealing of the ginger was a technical job, it was time consuming and this caused it to be costly. That was a part of the problem that lead to the decline of ginger production on the island after a while.

However in 1980, 1,100 acres of ginger was planted in Jamaica in parishes of Clarendon, Manchester and Trelawny. The Jamaican ginger is still the most aromatic and pungent in the world today and it is currently being sought by many people.


HEALTH BENEFITS:
The primary use of ginger is as a spice, in foods and dishes all over the globe, but did you know that there are many health benefits to be derived from consuming ginger extract?
Yes, patients with painful joints have reported reductions in their pain and better joint mobility. Also, whenever a person becomes nauseous they can simply drink some ginger tea or take a ginger capsule and get relief.
We were also made aware that that researchers have discovered that ginger can be used in the fight against a type of cancer. Gingerol, they say, has been able to kill ovarian cancer cells. This was reported by doctors at a University in Michigan.
This was a wonderful discovery considering that it had none of the harmful side effects associated with chemotherapy.
The researchers also discovered that regular use of ginger could protect people from the ravages of colon cancer. There is no doubt that ginger is one of God's many wonderful gifts to us.
GINGER PRODUCTS:
As there are many tasty products that are made with this horny shaped root. There are ginger cookies and ginger biscuits, ginger tea, ginger ale, ginger bulla, ginger bread and ginger beer.
Ginger is also used in a variety of very tasty dishes - all around the world.
But we are proud to learn that that the true ginger experience comes from our very own Jamaican ginger.
By the way, if you are outside of Jamaica you can
Jamaican Ginger at our Amazon Store
So how do you use your Jamaican Ginger?
Share with us here
.