Jamaican Jerk Chicken
by Kameka Harris
(Montego Bay, Jamaica)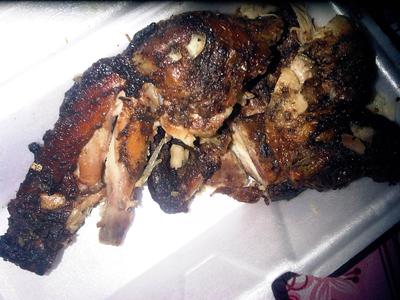 JAMAICAN JERK CHICKEN
A snapshot of mouth watering Jerk Chicken that was been sold at the Mobay Jerk Festival held on 01 August 2013.

Wellesley's Note.
Kameka submitted this lovely picture of Jamaican Jerk Chicken back in August during our best Jamaican Photo Contest contest.

We had to shelve it becuase it didn't not have all the content required for inclusion per the stipulation of the contest rules.

Today, while reviewing some of the adorable pictures I stumbled upon it and decided that I just have to share it with you - it is simply too captivating and real.

For those who know the real Jamaican Jerk chicken this is it. It is 'di real thing'.

I hope your salivating by now :-)

So have you ever had Jamaican Jerk Chicken? How long ago? At a restaurant (eatery) or from the Pan-Chicken man?

Share your comments right here (below).