Jamaican Roast Corn - Yum, Yum!
by Wellesley Gayle
Published July 6, 2017



Well, by now you have a solid idea of how I love my Jamaican food right?

You should :-)

Anyways, to the meat of the matter, or should I say the corn of the matter (lol).

I was in Sav (Westmoreland) for business, but went downtown ( St. Georges street) to withdraw some funds at the ATM.

Well to my delight, I noticed a gentleman, a vendor, selling one of my favorite Jamaican snacks, roast corn!

You know I had to check him out right?

Of course! And I did!

I bought one and made my way, but so delicious was it, I decided to return and get another one after about 3 kilometers!

This time though, I figured I needed to share 'the moment' with my readers. I made this short video of my interaction with the vendor just for you :-)

It captured (live) one of the ways we prepare roast corn here in Jamaica; this one was with the use of a coal pot fire with a grill!

It brings back so much great memories and I really hope it does the same for you too.

You are familiar with the term 'icing on the cake' right?

Well in the context of the roasted corn, the dried coconut is that 'icing' on the corn - 'it bad' (meaning, delicious)!

You'll notice that the brother gave me a piece of dried coconut at the end to have with it. That truly was the icing on the cake!


Click The Play button below
(Opens in a new window at Youtube.com)
So here is the short little video; I hope it brings back fond memories, and to those not quite familiar with the
Jamaican culture
, some good insight and interest.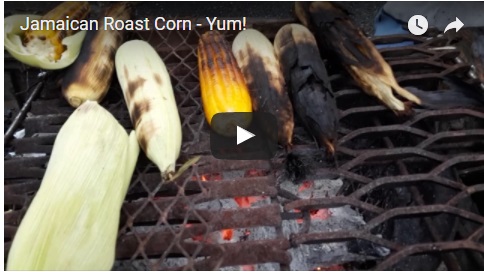 Please remember to share! KK
For more information on authentic Jamaican food, please
click here
, for captivating food pictures from Jamaica,
click here
.
Regards,
WG
P.S. Of course, I always welcome
your comments below
.
P.S.