Jamaican Sweet Potato Pudding Recipe
by My-Island-Jamaica.com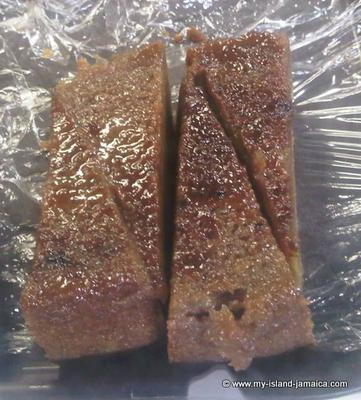 jamaican_potato_pudding
On Saturday, 7/13/13 I posted a picture on our Facebook page with this question, "When last have you had a slice of this? Delectable Jamaican Potato Pudding?"

In a short while it received over 100 likes, 19 shares plus a whole bunch of comments.

These included, "Can I have that?", "Would do with a piece right now?", "Love it..but can't find no good bakers..its either too dry, no have no flavor or something..always a let down..need to go home for the real thing".

But the most popular comments though were those from people asking where can they find the recipe.

Well here it is!

This is the one- with cornmeal, but I actually extracted it from Grace Kitchens so this one should be really good.

Here you go! Enjoy!



Ingredients


4 cups sweet potatoes

1 can coconut mIlk

4 cups water

1/4 cups margarine, melted

2 1/4 cups brown sugar

1 cup raisins, soaked

2 teaspoons vanilla essence

1/2 cup flour

1 1/2 cups cornmeal

2 teaspoons nutmeg

2 teaspoons cinnamon powder

1 teaspoon lime rind, grated

1 1/2 teaspoon salt

2 tablespoons lime juice

2 tablespoons white rum

Directions


Peel and grate sweet potatoes. Pre-heat oven to 180°C (350°F).

Combine Coconut Milk, water, Margarine, sugar, raisins and vanilla, and stir.

Mix together flour, cornmeal, nutmeg, cinnamon, lime rind and salt; set aside.

Empty flour mixture into the grated potatoes. Gradually add the combined liquid and stir to remove lumps.

Pour mixture into a well greased baking pan and bake for approximately 2 hours.

To Serve:
Allow pudding to cool; then combine lime juice with rum and sprinkle over pudding.

This recipe actually serves 10.
Source:
Grace Kitchens
Return to
Jamaican Desserts from Jamaican Potato Pudding Recipe
Return to
Homepage from Jamaican Potato Pudding Recipe