Jamaica's Weather in March | What Can I Expect Upon Visiting Jamaica?


by Arriel Bullock | Associate Writer

Jamaica is a tropical island, which means it enjoys nice, warm weather all year round. The lush vegetation, beautiful beaches and picturesque landscape attest to the healthy balance of rainfall and sunshine that our island experiences.

Unlike the countries further away from the equator, Jamaica's seasons do not experience the drastic changes of Fall, Winter, Spring and Summer. Instead, the island's climate varies from cool to warm to rainy to hot, and not necessarily in any specific order.

Each month brings with it a different blend, which may vary depending on the conditions happening further North. With this in mind, let us look at Jamaica's weather in March.




The month of March is the official start of Spring. As such, the cooler temperatures begin to wane and there is a warmer feel to the island in the daytime, averaging 26°C daily. Historically, the peak temperature in March is still a nice 29°C, while it cools down at nights to a low 22°C.

March brings with it some lovely winds too, with an average of nine (9) hours of sunshine daily, making it an ideal time for visits to the beach, hiking, river rafting, ziplining or any other explorative outdoor activities. The cool breeze, combined with the warm sunshine, gives an exotic blend of happy warmth – enough to make each March day a delight.

Rainfall is also minimal, as this month is still within the island's 'dry period'. There is an average of nine (9) rainy days for the month, with the showers coming either later in the evening into the night, or early in the morning. March rain doesn't normally last long though; just sufficient to maintain the balmy March weather.

With the temperature beginning to warm up, the refreshing coolness of the breeze, minimal rain and a beautiful landscape to bask in, Jamaica's weather in March feels truly like paradise.

So, whether you're perched on a lounge chair with a refreshing glass of coconut water (or a delicious rum punch), or enjoying a lovely day out at the beach with family and/or friends, it's an experience you won't want to end.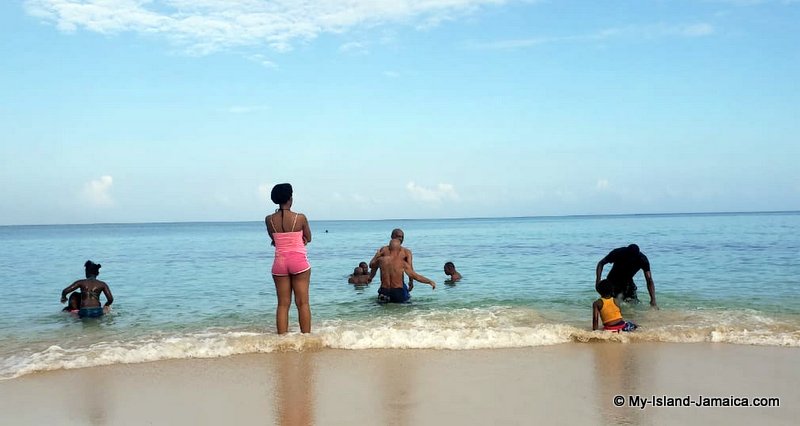 By the way, we've written extensively on the typical weather and climate here in Jamaica. I suggest you take a look at this article (link below) to get a greater insight into the general climate and weather conditions at different periods in the year.

Recommended Article: Jamaica's Climate & Weather By Month

Regards,
AB